Best driving routes: Rameshwaram to Dhanushkodi
India is infamous for its shabby roads, but at the same time there are many fantastic driving roads spread through the length and width of our beautiful country. OVERDRIVE has been fortunate enough to experience quite a few of these roads, and we want to share the joy with a weekly feature of a fantastic road that you should aspire to experience someday. For this week's best driving route, I have chosen the route from Rameshwaram to Dhanushkodi
The Jaguar parked near the Dhanushkodi coast
I had read about Dhanushkodi but wasn't fully aware of its locations and details around it. It was during our east coast to west coast trip that I experienced the beauty of this south-eastern tip of the Pamban Island in Tamil Nadu. Interestingly, it is close to 30kms from Talaimannar, Sri Lanka. While I drove down from Chennai which was a decent route, one can also fly down to Madurai and then take a cab to Rameshwaram that is close to a 200km trip. A Toyota Innova would cost around Rs 7,500 for a single trip from Madurai airport to Rameshwaram.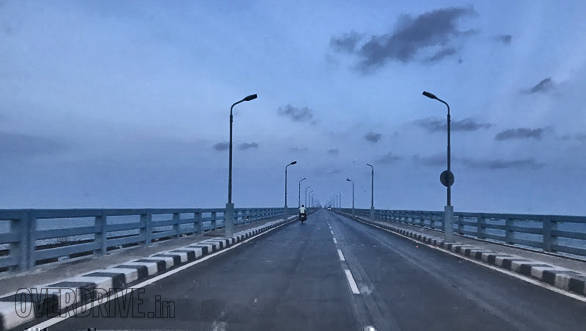 Annai Indira Gandhi bridge road that connects Rameshwaram to Pamban island
Just before Rameshwaram, there is the Annai Indira Gandhi bridge which also has the Pamban Bascule Railway Bridge running beside it. The sight of the train running on this bridge with the vast background of the sea is truly beautiful.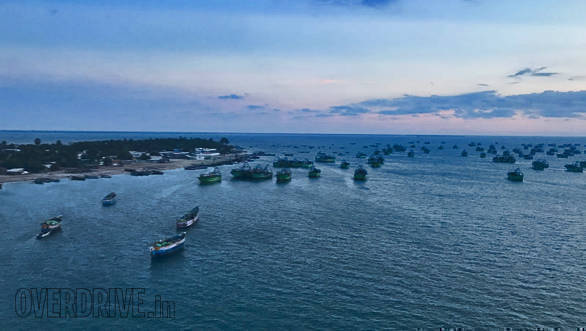 The view seen from the Annai Indira Gandhi bridge
Staying in Rameshwaram is not an issue as it has both budget and premium properties. Being a religious location, most restaurants and accommodations serve veg food. The ideal time of setting off from Rameshwaram towards Dhanushkodi is during dawn. It is a 25km drive. This one is a simple section but has one of the most beautiful locations along both the sides. To aid to that, it has an excellent stretch of tarmac that runs to the tip of the Dhanushkodi that is not shown on the map.
It gets all the way scenic once you cross the Dhanushkodi police station. Bay of Bengal on one side and the Indian Ocean on the other, the grandeur of which can be felt only by visiting the place. It was in 1964 that the area had been devastated due to the Rameswaram cyclone, the remains of which can be seen with the ruins located on the beach.
This structure marks the eastern tip of the coast in Dhanushkodi.
Price (Ex-Delhi)
Starts Rs 44.98 Lakhs