A new car delivery in Andaman Nicobar islands
I've never been to Andaman before, and now I find myself travelling almost 300 kilometres across the island all in one day just to deliver a car. It's a bit surreal but then a circumstance like this seldom occurs anywhere else within India. Where else does a car dealer have to travel this far just to keep his customer happy? A 300 kilometre drive one way to present a new car to its new owner, balloons, streamers, ribbons, et al, it was just too surreal an experience for us to pass up. I just had to go and see what the fuss was all about, especially since it was on an island, one of India's most gorgeous destinations to be precise!
You see this story began roughly two months ago when Halley and Varun travelled to Port Blair to drive the facelifted Nissan Sunny. We added on a few days to that trip and stayed back to do a small travel story and helping us with that task was Dheeraj, the dealer principal for Dheeraj Hyundai, one of just five automotive brands available on these islands. From Dheeraj we learned that customers came in from far flung reaches of Andaman. How far flung can an island be you might ask. In this case it's nearly 350km, from Port Blair all the way up to Diglipur. Just the distance took us by surprise, you don't think of an island as a place that large, but the Andaman and Nicobar islands, all 572 of them cover 8,249 sq km. Just the south, middle and north Andaman islands that I drove across are around 6000 sq km in area, so you see it's a pretty large archipelago.
A signboard that warns travellers of the dos and don'ts within the Jarawa tribal regions
The Andaman islands though a part of India aren't even remotely as well developed or well connected as the mainland. There is just one road, the Andaman Grand Trunk road, a 300km highway designated NH223 that connects Port Blair to Diglipur, which is the furthest you can legally travel by road in Andaman. The Grand Trunk road isn't a major highway despite the name, it's a narrow 10 foot wide ribbon of tarmac in places fraught with dangers of all kinds.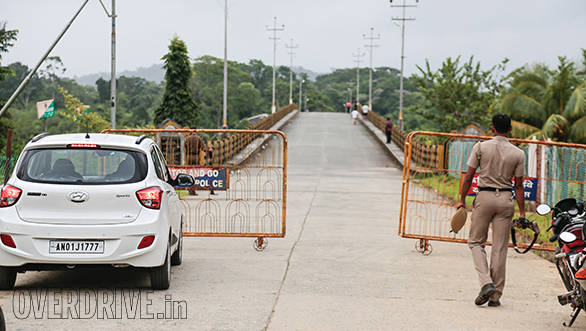 The barricades near the bridge connecting the middle island to north Andaman to prevent travellers from encountering the rogue elephant
Just the morning I landed, there was news of a 'Musth', an oversexed and deprived of conjugal rights elephant that kept bothering travelers on this road. It had already killed a forest officer, disturbed several villages, overturned a bus full of passengers and chased down several cars. The local government had issued 'shoot at sight' orders to bring it down! I've heard of those orders being issued for people but, for an elephant? Then there are the tribals who live on the outer radii of this island, some of who are completely disconnected from civilisation and still roam around parts of the island as naked as the day they were born. These islanders are so distant from everyday life as we know it, they've been known to look at outsiders with both a mix of awe and sometimes hostility.
Then there are crocodiles, river crossings, a lack of basic amenities and several other challenges that would dissuade the ordinary traveler from venturing too far out of Port Blair. But then again we've never ever shirked an opportunity to get an awesome story. And the lush forests, the azure skies when it's not raining and some of the most gorgeous coastline in India drew us in; hook, line and sinker!
Driving through the lush rainforests
So from there began the story of the 'delivery', a journey to take a brand new car to its owner in Diglipur from the showroom in Port Blair. In large cities or even small towns on the mainland, the delivery process is a fairly simple one that we often take for granted. Get to your showroom, a salesman will hand you the keys to a dolled up car, a coconut and a box of sweets and let you pose in front of your car to capture your first proud moment with your new purchase. As I learnt to my amazement, in the Andaman islands this in itself is the road trip of a lifetime.
We just had to stop and drive onto a beach near Baratanga to get this pic
The day began early, partly because I had to shoot the whole journey and that would eat into whatever time we had to spend driving. And then more importantly not all stretches of Andaman can be driven across freely. Certain zones have restrictions on what you can do and there are entry times to adhere to, so we had to optimise time for everything. That is how I found myself awake at 3:45 am and getting into the to be delivered Grand i10 at 4:30 in the morning.
An hour later, after a rather uneventful drive getting out of Port Blair we reached the Jirgatang check post. This check post is a highly sensitive post as it aims to protect the Jarawa tribals from the rest of civilisation. All vehicles driving past this post have to get themselves registered and then drive on a snaky poorly surfaced Tarmac road that stretches 47 kilometres.
Following a convoy of cars under strict monitoring through the protected tribal area
The Jarawa are an indigenous tribe and one of the oldest Andaman residents. Their race can be traced back through centuries and they are probably one of the fewest links we have to what constituted modern man. The Jarawa reside in the lush and dense forests found in the extreme northern section of the south Andaman island. The total number of Jarawas in existence now is around 400-500 and they reside deep within the lush tropical rainforest. The only way for them to continue to survive and not go extinct is to avoid contact with the outside world which could spread diseases among them that they haven't built an immunity to. End game in a handshake!
Driving across a rickety wooden bridge on one too many small streams
To prevent any incidents within this protected zone you have to drive in a convoy, at a speed limit not exceeding 40kmph and you cannot overtake the vehicle ahead of you. This means if the vehicle ahead of you is a slow moving truck barely managing to get past 20kmph then you are forced to sit behind it at the same pace. You cannot stop either anywhere inside the protected zone, pee breaks are an absolute no no!
And the road is horribly scarred so the drive is uncomfortable, slow and tedious and drains most of the energy out of you, much needed for the longer journey ahead. This part of the journey is also affected by storms and cyclones that continuously invade Andaman round the year. The strength of these cyclones uproots the forests and let me tell you it's not easy to uproot some of the vegetation here. These trees have been growing for years and over the years have intertwined with each other. The growth is so dense in these forests that the sunlight sometimes can barely reach through the top cover to the smaller foliage underneath. So when a cyclone does strike and a tree is uprooted you can only imagine the mess it makes. Sometimes these trees fall onto the road and disrupt traffic which explains why most of the bus drivers and even some commercial vehicles carry a chain saw to chop up the tree and clear the way.
On the ferry between South and Middle Andaman island
The convoy ends at the middle strait, the first of three straits that run across the length of the island splitting it into four sections. Of these, two have to be crossed over in a ferry, the third and last one has a newly built bridge which makes life easier. With just two ferry boats running to and fro between the docks at each strait, they can be a tight fit. This means taking care you don't scratch the car trying to place it onto the deck of a bobbing boat and hoping no one else runs into you during the loading process. From the middle strait at Oralkatcha, the road begins to get even narrower and the shoulder is now a sharp broken edge. There is barely enough room for two passing vehicles to manoeuvre and the next 70 odd kilometres all the way to the next strait continue to stay the same.
It's a road you just have to be careful on since there are few islanders on this section but almost all of them have a car of some sort. With the road surface in relatively good condition they are prone to speeding around and coming around a blind corner you're liable to see one such car barrelling right towards you.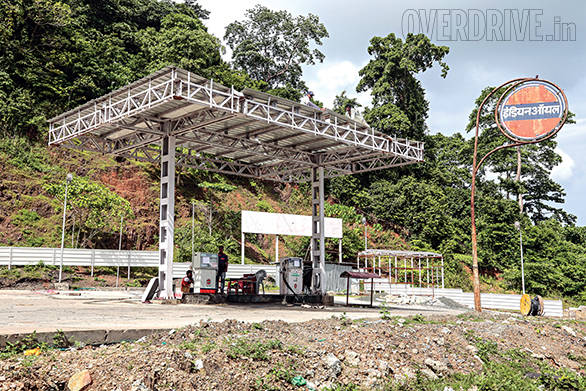 The only petrol pump on the way between Port Blair and Diglipur, you better have an efficient car in these parts
All this time you're caught between keeping your eyes on the road and having them wander to soak in the rich vegetation. Andaman is one of India's lushest tropical forest regions and everywhere you go, there are dense forest lands you drive through with magnificent trees lining the road. This island receives more than 150 days of rainfall sporadically, so while there is a specific monsoon season, showers can be expected any time of the year. That explains why this island looks bright and green through the year.
Sometimes it's natural, sometimes it's the logging industry, expect trees to block your path every time
At the next strait between Baratanga and Uttara, I found myself pretty far back in a queue of cars and buses lined up to take the ferry. Stepping out to get a breath of fresh air and ease my legs I came across a board that simply claimed 'Danger, crocodiles spotted at this point'. Crocodiles! I took a hasty step back from the edge of the mangrove and went back to check with Raja and Sanjay my companions on this trip what the deal with the crocs was. Apparently before 2004 there existed a thriving saltwater crocodile sanctuary in Andaman.
Then one early morning on Boxing Day 2004, the island was struck by an earthquake, the devastating Sumatra- Andaman quake which registered a 9.1 on the Richter scale. It set off a tsunami with waves towering to 30 feet spread over several thousand kilometres that engulfed parts of Sumatra, Bangladesh, South India and of course the Andaman Islands. The waters from that mega wave penetrated deep inland and broke down the sanctuary releasing a large number of crocodiles into the water. The Andaman Islands already had a fair amount of crocodile infestation before that but the tsunami changed things drastically. So far there have been several sightings and over the last 25 years 24 attacks have been recorded. Still officials preach caution to those swimming in the seas and walking around the mangrove areas. Raja and Sanjay have on several occasion seen crocodiles in their path since some deliveries have taken them into villages close to the mangroves. Its a blood curdling thought to come across a crocodile but at the same time for reasons unexplained I'm also hoping to catch sight of one. Fortunately or not I don't, yet the threat is real!
Driving along the spectacular coastline near Rangat
After the river crossing it's a straight run past Rangat where we stop for a delicious but late seafood lunch comprising of loads of crabs, prawns and fish. Then its a relatively serene drive right next to the ocean. The views are stunning and there are several places you can stop to gaze at the azure waters and rocky coastline. There are several beaches too but after a walk down the clean unpolluted sands, Raja is cautious to not let me get into the new car with sand on my feet. Each car is cleaned and delivered to its owner decorated in Hyundai's customary frills but while the outsides can be cleaned up its hard in Andaman, with its scant washing facilities to get dirt out of the insides. Ten hours later we arrive at the Mayabunder bridge which connects the middle island to the north island. This is where we find a police barricade blocking the road. No one has been allowed past for the last two days because of the rogue elephant and while I have on some occasions used the power of the press to get us to drive into certain zones, this time there was no arguing with a sex starved elephant! That meant a 40 odd kilometre drive back to Rangat in the hope that the next day the elephant would be put down and the road opened.
Sanju Kumar, ready to take the keys to his brand new Grand i10 from Raja
Unfortunately that did not happen for two more days. The time in between I spent visiting a few more sights around Rangat and Baratang like the mud volcano and more beaches. This sort of thing happens frequently in rural areas, the road shuts down either due to some natural disaster or emergencies of all sorts. The Andaman's proximity to a major fault line in the Indian Ocean means there are several earthquakes that are felt year round, some minor other major enough to disrupt life for several days. Then there are the thundershowers which can get severe enough to uproot massive trees and block traffic as it meanders through the forests. And you also have the local wildlife to contend with. Life in the Andaman islands is always challenging and yet it goes on. Two days later when we delivered the car to Sanju Kumar in Diglipur there was the usual sense of pride any new owner feels but with the team that I had accompanied to make that delivery, there was an immense sense of achievement. It was yet another customer left smiling and happy. Now there was that equally long drive back home to Port Blair, a return journey just as thrilling as the one we'd just been through!
 Images by Bertrand Dsouza
Price (Ex-Delhi)
Starts Rs 7.05 Lakhs