A glimpse into Laurent Andre Chapuis' marvellous, hyperreal motorsport art
Back in 1980, the then 13-year old Laurent André Chapuis, watched the Rally Tour de France Auto, in complete fascination. The race-winning Lancia Stratos piloted by Bernard Darniche, the second-placed Porsche 911 of Bernard Beguin, and the Fiat 131 of Michele Mouton are etched in his mind's eye as if it was yesterday. He was captivated. And there began a life-long love of motorsport. A few years later, Chapuis, by then a huge Jacky Ickx fan, began taking photos at motorsport events, and then converting these into meticulously crafted, hand-painted works of art. The first painting he made was of a Ferrari 206P, all the way back in 1987.
A small sample of Laurent Andre Chapuis' motorsport painting collection (Image copyright: Laurent Andre Chapuis/Studio Velo)
Now, around 32 years later, Chapuis' collection of motorsport art includes everything from Jean Pierre Jabouille's Renault RS01, to Jenson Button's 2009 season-winning Brawn GP, the McLaren M26, and Denny Hulme's McLaren M14/A. And we've only just gotten started. If it's hyperreal paintings of rally cars that you'd like to take a look at, stop by the rally car page on his website. You'll find Hannu Mikola's Audi Quattro S1, with light reflecting in all the right places, the Martini-liveried Lancia 037, and the Porsche 911 Carrera RS 3.0 that was piloted to victory at the Monte Carlo Rally in 1978 by Jean-Pierre Nicolas. No French motorsport fan would dare skip sportscar prototypes that they've spotted doing the rounds at the Circuit de la Sarthe - and quite naturally Chapuis' got the Porsche 917, complete with Martini livery, the Porsche 962 C Hydro Aluminium, and so much more.
Of course, as a full-time advertising professional, Chapuis only paints racecars in his spare time. While he used to attend around five or six races a year, that's now whittled down to one or two in recent times. "Now I have a lot of pictures of cars, and I prefer to choose the most interesting one for me," he says of how he decides what to paint next. On an average, he says he manages to finish between three and six new paintings each year, "It is not my first job," he reiterates. Besides, each painting is time consuming taking anywhere between 30 and 50 hours to finish.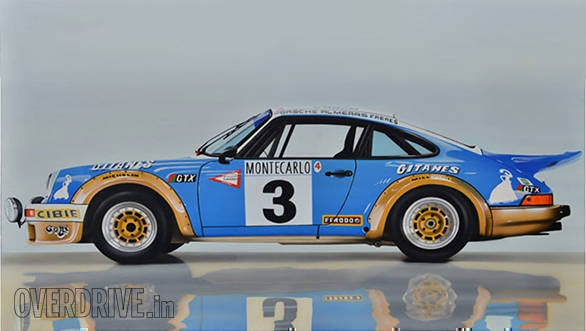 The Porsche 911 Carrera RS 3.0 that was piloted to victory at the Monte Carlo Rally in 1978 by Jean-Pierre Nicolas (Image Copyright: LA Chapuis/Studio Velo)
"The task of adding depth to any image is a real challenge for me, in particular when it comes to reproducing the blurred area," he says. But he's managed to develop a technique of hand cutting paper stencils to help him block out certain parts of the canvas as he's painting, which he says helps "to get the sharpness". The portions where things are blurred are trickier, because he needs to manage to create a space between the stencil and the canvas before applying paint. In all, Chapuis says he relishes all of the work, especially the challenge of light reflecting off the curved metal surface. Perhaps the only bit he doesn't like is the somewhat tedious business of painting the bits and bobs that comprise the mechanical parts of racecars. "Like the engine - it's a long job. Not very hard, but long and not as interesting as reflection."
For Chapuis, the most exciting period of motorsport is a period that he has documented extensively. "The racecars between the 1960s and 1980s, both in Formula 1 and sportscars - the design was different and very beautiful. After this period, aerodynamics design the cars and they are all the same," he says. If you'd like to see what he means, just look at the beautiful Ferrari 246 F1 that the Scuderia used in the 1966 season of racing. Sure, you could look up the image on Google, but maybe also visit Chapuis' website and look at his painting of that very car - it's almost impossible to tell that it isn't a photograph!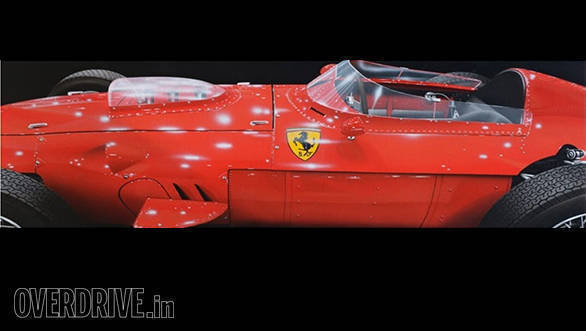 The Ferrari 246 F1 used by the Scuderia in the 1966 season of F1 (Image Copyright: LA Chapuis/Studio Velo)
Right now, Chapuis is working on a Ferrari 250LM, and waiting out the lockdown in Burgundy in France, eagerly awaiting a time when he might be able to visit the Le Mans Historic, the Historic Monaco GP, or the Goodwood FOS again. What keeps him going all these many paintings later, though? "My passion is motorsport," he says. "I like the design of racecars, the colors, the details. And the ambiance of the track, with the smells, the noises. But this, I cannot paint!" he concludes.
To see all of Laurent Andre Chapuis' motorsport and automobile art, visit his website - Studio Velo.
More videos of Chapuis' automotive art process are available on his Youtube channel. Click here to visit it.
Price (Ex-Delhi)
Starts Rs 1.38 Crore