2017 Yamaha FZ25 longterm report: After 3,425km and seven months
So this was one of the longterm fleet vehicles which I always wanted to ride, as I owned the Fz16 2008 and the FZ156V2 2013 also came along later. After getting the bike's engine head cover bolt fixed using threadlock, I wanted to take it out in a non-urban environment for a change. After picking up the bike on a Thursday, I decided head out for a long run over the weekend, away from the city. I learned the basics of riding in the hills, on those curvy roads. So, to get acquainted with the FZ 25, I decided to take it to winding roads up to Lonavala.
The Yamaha Fz25 felt smooth on the flat straight roads. It has a pretty comfortable seat as well. As my legs are longer, I prefer sitting a bit behind than the normal commuter does. It's fun cruising at 100+ kmph speeds, sitting comfortably on the soft seat. Riding up the ghats till Lonavala made me discover that the FZ25's nimble on the corners, the handling inspires confidence.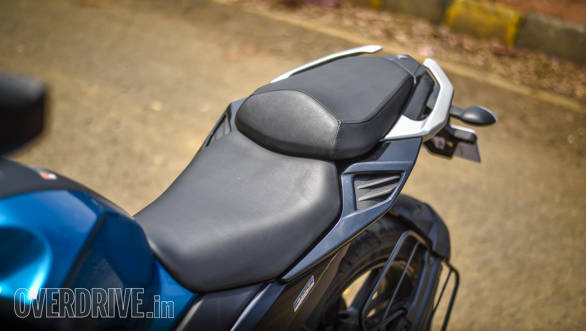 The ergonmics are spot on, even for long-legged people like me
Later that day, the impromptu weekend plan to Lonavala was extended to a coastal road trip and after a few hundred kilometers the FZ 25 and I were standing at the shore of the Arabian sea at Kashid. The suspension, as I also discovered is amazing when it comes to bad country roads.
I wish the tyres offered more grip, especially while braking
The only problem I faced was the tyres, especially while braking. The brakes are good enough but the tyres are not upto the mark. You have to be pretty careful if you are new to the bike. Once you get used to it, however, this bike is a perfect replacement to FZ16. That said, the absence of ABS and good tyres make it fall short of being considered as a perfect tourer and a good highway machine.
Last update:  The bike was stranded in the office parking lot due to a loose engine head cover bolt
Next update: I have one of the longest rush hour commutes in the office. we'll see how the bike
Inducted in: Sep 2017 | Inducted at: 1,600km | Total mileage: 2,522km | Fuel: 35.9 litres | Economy: 30kmpl
Price (Ex-Delhi)
Starts Rs 99,200