2016 Auto Expo records 6.01 lakh visitors over one week
A month before the show, the organisers promised us that the 2016 Auto Expo would be bigger than ever. In terms of actual launches though, I'd beg to differ. We made a list of all the new and noteworthy four-wheelers at the show and discovered that of the 72 concepts, show cars and production machines, just eight were launched at the Expo, and only four of those were all new machines. Too many promises and too little deliverance.
However, one can't hold the organisers to fault for that. To be fair, they delivered on their promise, at least in terms of visitors to the show. We were present from February 3-5, and by the third day, the crowds were already to much to bear. The official footfall quote for Febuary 5, 2016 was nearly 80,000 people. The numbers naturally rose over the weekend and peaked at 1.3 lakh visitors on Sunday. That's a huge, huge number.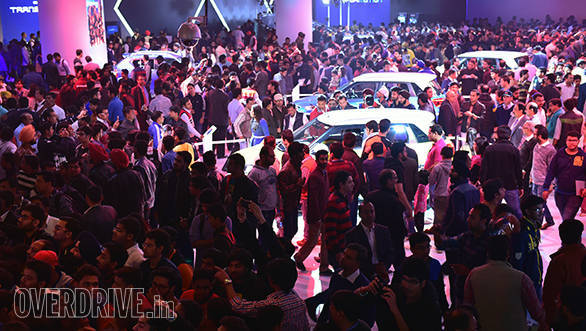 With so many people, there's very little scope of actually seeing and appreciating the vehicles on display
But I wonder, what did all these people actually get to witness? On February 5, the first day that was open to the public, the numbers were overwhelming. I chose to walk across all the stands to witness anything I may have missed in the mayhem that involves covering a motor show. Bad move. The crowds were pulsing, most of the stands were closed to public. It wasn't the number of people so much as the rudeness and complete lack of courtesy that ruined the experience. Just fighting my way to the front so I could explain that I was from the media and wanted to get in was a tough and off-putting task. After five stands, I decided I'd had enough. The crowds were so big that if I hadn't had access to enter the stands, all I would have witnessed was a sea of unruliness.
A common and embarrassing sight, journalists in the background fight for press kits in the hopes of getting a gift. This lot must have been disappointed to find just a USB drive containing product information!
And don't forget, all this was with 79,000 people in attendance. I can't even imagine what the case would be on Sunday with close to double the number of people pushing and shoving each other to get the closest distance between their camera lenses and the poor models besides the vehicles.
According to some reports before the event, the organisers were gearing up to handle about 1 lakh visitors per day. How 30,000 extra fit in there - I have no idea how. All I know is that I really, really wouldn't want to be part of that crowd. Witnessing the Auto Expo as a journalist is hard enough and there was a lot of stuff I never saw in my three days there. But would I ever want to see it as a normal visitor? God, no. I'll rely on some other poor chump to put it all on the internet for me!
2016 Auto Expo: Four-wheeled highlights from day one
Ramblings about my first visit to the Auto Expo
For more information from OVERDRIVE on the 2016 Auto Expo, click here
To stay at the cutting edge of automotive news in India, follow us on Twitter (@odmag) or on Facebook (facebook.com/odmag). Or download our app from the iOS or Android app stores today