10 things you need to know about the new Harley-Davidson small bike
Harley-Davidson is coming up with a small bike for the Indian market. But why is Harley working on a small bike at all?  That is one of the many questions on the development that we will answer here. UPDATE: The new bike is actually two motorcycles called the Street 500 and the Street 750.
1. Why is Harley working on a small bike at all?
Because everyone else is. That sounds like a follow the herd sort of mentality, but it isn't. It is becoming increasingly clear that future sales growth will not come from the big, expensive flagship motorcycles but from smaller motorcycles that are able to tap the booming emerging markets. These markets may or may not have the bigger products on sale, but between the inherently higher prices and local taxation structures, sales are at a lower scale. The way to reach higher growth rates and bigger sales penetration has to be via more affordable motorcycles. And more affordable means smaller, less complex, less exotic motorcycles.
Harley-Davidson is simply adding their voice to a rationale that is already gathering momentum around the world. The Japanese players have already started on this product path with bikes like the Honda 500s and the Yamaha MT-09, and others are sure to follow. Emerging markets are simultaneously growing in importance because the developed markets are now seeing the average rider age rising and interest in motorcycles fading, a combination that bears doom and gloom for the future.
Hope lies with us. India is well on its way to being the largest motorcycle market in the world and success here hinges on bikes in the Rs 2-5 lakh range rather than a wide range of products priced well above Rs 10 lakh.
Harley-Davidson has shown that it understands the dynamics of the Indian market better than most other manufacturers in the premium space, and the smaller Harley is a natural next step in their expansion strategy.
2. How small is too small and how small is it really?
You can be sure that this isn't going to be a 250. Not that Harley hasn't built bikes that small. Most notably when H-D owned the Italian marque Aermachhi, they did have 250 singles in their line-up. But this being a Harley-branded product, it will feature a V-twin engine and the displacement is rumoured to be 500cc. However, an Australian journalist we met recently said that when he mentioned this displacement to a Harley official, the comment offered was that everyone was assuming that the displacement would be 500cc, but it could be larger.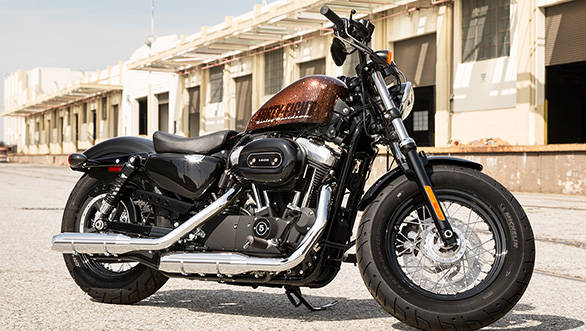 2014 Harley-Davidson Sportster used as a reference
The way we see it, the gap between the 833cc Sportster engine and this new 500cc engine is a bit large. The last Harley sub-Sportster product was the 492cc Buell Blast, which was a single created more or less by lopping the second cylinder off a Harley V-Twin to create a well-received entry-level motorcycle. But a 500cc V-twin doesn't seem to the logical extension, something more like a 600 or 650cc V-twin makes more sense. It would still be cost effective, produce more torque and simultaneously escape the small engine perception that is sure to follow the 500 around as more products enter that space in the market. If we were betting, we'd bet at the 600-650cc level.
Someone did mention a 750cc V-twin but that again seems too close to the 883cc to make sense. If you're building a new platform, which the new bike undoubtedly is, the idea would be to start at the lowest displacement level and allow headroom so the engine can grow if needed later. 750cc just doesn't allow that.
Describing the motorcycle at the Harley 110th Anniversary event, Harley-Davidson COO Matthew Levatich was quoted as saying that the new motorcycle is "nimble, light weight, has a low seat height and supple throttle and braking. I've ridden it – it looks great, sounds great, it's a Harley, and it's priced right.
3. Why is it not a 45 degree V-twin like the other Harleys?
It appears that the in the case of the new Harley, H-D has chosen a wider vee angle for packaging reasons. A 45 degree engine would be taller and that might mean a taller bike or compromised ground clearance (think Super Low). With the motorcycle intended for emerging markets where roads are less predictable, ground clearance is vital to daily use while a tall motorcycle will automatically become the non-Harley. So a wider vee angle - easy to do if you're building the engine from scratch - is perhaps the most viable solution that achieves the requirements.
4. Harley's small bike history
Harley-Davidson may be known today for its big V-twins, but it isn't the only thing the company does or has done. The first Harleys were single-cylinder engines, and till 1913, that is the engine format they used, evolving along the way. Harley stopped making singles in 1918. Then in 1925, singles returned to the line as 1926 models available as Flathead or overhead valve engines until 1930 after which the latter option was removed from the line. This line ended in 1934.
Then Harley-Davidson received the design of the German DKW RT-125 as part of the war reparations which they adapted, produced and put on sale between 1948 and 1966 under a range of models. The Hummer made from 1955 to 1959 is also said to have its origins in the DKW design. As an aside, the BSA Bantam shares the same design foundations.
In 1960, Harley-Davidson acquired 50 per cent of Aermacchi's motorcycle division. The single cylinder 250cc engines began to be imported into the US from 1961. When sold in the US, the bike was called the Harley-Davidson Sprint. In 1969, the Sprint became a 350 and that is how it was when it ended production in 1974. Harley-Davidson purchased the rest of Aermacchi's motorcycle production in 1974 and held on to it for four years before selling the facility to Cagiva.
Over the years, Harley has also made its share of smaller V-twin engines. The D (1929-1931), R (1932-36), W (1937-52), G (Servi Car 1932-73) and K (1952-53) models were all 750cc V-Twins, while from 1957 oncwards, the Sportsters have been 883cc, of course.
Then in 2000, Harley-owned Buell Motorcycles created the Blast, a 34PS 492cc single that was intended to attract a younger audience to motorcycles, and by extension to Harley-Davidson. It was meant to be simple, reliable and easy to get on and ride. And at $4400 at launch, relatively inexpensive as well. Later, in 2009, just before Buell closed doors, the Blast was very publicly put out of its misery with a series of ads that included the Buell being sent off into a automobile crusher. The logic was that the Buell Blast came to represent a kind of motorcycle that Buell didn't really identify with overall, and whatever it's utility or popularity was, it was robbing Buell of its unique engineering and capable motorcycle ends of the brand image. Of course, soon after, the recession caused H-D to streamline their business and Buell was closed.
Now, with the new motorcycle, Harley-Davidson are re-entering the small bike arena, a playing field that they have historically been active in but not in the recent years.
5. Made in India?
Making the motorcycle in India is a pricing issue. Our duty structure is heavily skewed towards local production and for the scope of this article, I am not going to delve into the moral questions about the validity of this structure. What that means is that the best possible pricing is possible if you make the motorcycle here. Assembling it here is more expensive and direct imports are prohibitively expensive. Not to mention that Indian homologation rules also make sub-800cc motorcycles harder to work with because they do have to be homologated here. Which is a far longer, drawn out, and usually expensive process compare to bikes over 800cc which can be sold here after a relatively simpler process that requires little more than paperwork and time. It is almost ironic that the 800cc limit was installed during the mangoes and ATMs for Harleys transaction that finally allowed direct motorcycle imports to start in India.
Further credence to the built in India notion comes straight from Levatich himself, who said, "The American qualities of a Harley are very important to people. The literal 'where does that shock absorber come from' part of it is less significant, but it has to have the spirit and soul of America. We have Harley-Davidson factories in India and Brazil - can we leverage those facilities and expertise so it can get to the, for example, Indian consumer, faster?"
6. Price points?
In Harley's case now, we expect the new bike to feature a lot of local content. This is vital to the pricing strategy and that in turn determines the sales future of the motorcycle. If you leave the displacement question out for a moment and think about it, the current bottom Harley on sale in India is the assembled Super Low, which sells for Rs 5.91 lakh ex-showroom. That is a bit expensive. The dollar rate has not been kind either, and the bike which started out at about Rs 5.15 lakh has slowly crept northwards in price.
Making the motorcycle in India insulates Harley-Davidson from the international market fluctuations quite a bit, though not completely, which is a side-effect advantage though it cannot be discounted. Further, local sourcing means the price can be significantly lower. I would imagine that Harley will be aiming for the Rs 4-4.5 lakh pricing mark with the new motorcycle. And I cannot imagine that price point being viable unless Harley makes the motorcycle here.
7. Launch schedule?
The launch schedule is expected to become clearer after the Milan motorcycle show that opens for the public on November 7, 2013. Harley is hosting a media event in the city on November 4 and OVERDRIVE will be there reporting live on our social media as usual. If you don't already, you should follow us on Facebook and Twitter to ensure you're at the leading edge of the event horizon.
In any case, given the state of the prototypes that have been spied testing in Haryana, chances are the motorcycle is about three to six months away from being ready for sale at the very outside. An Auto Expo launch, we believe, is on the cards for the new Harley.
Harley COO Levatich also said at the Harley 110th event, "We want to get it out as soon as we can, but it's got to be right. New engines are complicated, and we've got to get everything right from a durability, reliability and confidence perspective. On the other hand, chassis and other things are a lot more straightforward."
8. Will it be a the real Harley experience?
It appears that this question is rooted in the belief that the Harley experience is inextricably tied to a big V-twin. That the noise and the torque cannot be had from a smaller engine. This isn't necessarily true. Harley engineers, to be sure, will work extremely hard to ensure the new motorcycle is a natural extension of the brand and motorcycle line rather than the odd man out.
This is of utmost important because within a year of the launch, this new motorcycle will become the largest selling Harley-Davidson on sale in whichever market H-D chooses to deploy it.
So the V-twin will very much make the right potato-potato noises and be tuned for torque. Given that it be lighter by nature than it's bigger, beefier brothers, getting that same sensation of torque that you'd get on the Sportster, or at least being in that ballpark shouldn't be impossible to achieve.
9. Will India be an export hub for this new bike?
Local production does open that door. Harley currently has manufacturing and/or assembly operations in the US, Brazil and India. It would make sense to ensure India becomes the export hub for the new motorcycle. And the more local sourcing for parts there is, the more likely it will be that Harley-Davidson India will become the origin for all exports. We expect to see the bike made here to travel all over South Asia, Africa and maybe even Europe. While Brazil and the US will handle markets that are in closer proximity.
10. Are you sure it isn't a Hyosung that has been spied?
It is unlikely. The engine isn't a 45 degree V-twin like all Harley twins have been and there is even talk that some spy shots show a half-hidden radiator like the new Project Rushmore motorcycles. However, the Hyosung V-Twin is closer to 90 degrees, but in the mounting, if you notice the Hyosung's tend to mount the engine with the front cylinder much closer to horizontal while the rear cylinder is almost vertical. This isn't the case with the spy shots of the motorcycles. Further, we have no information that Hyosung is working on a completely new engine for the forthcoming Aquila 250.
Price (Ex-Delhi)
Starts Rs 10,55,354