F1: Alfa Romeo could make a Formula 1 comeback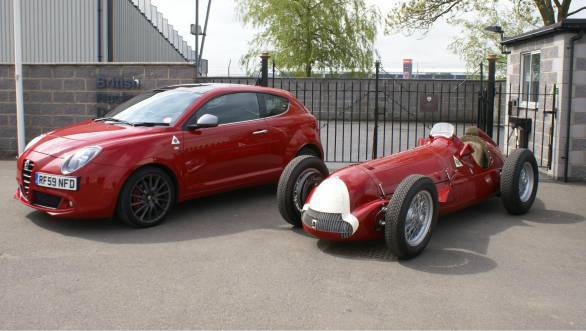 The Alfa Romeo 158 in which Giuseppe Farina won the first ever F1 championship in 1950 stands next to an Alfa Romeo Mito
What's a good way to improve the image of an automotive brand? Why, go racing of course! It's something Fiat Chrysler chief executive Sergio Marchionne clearly believes. The Italian recently revealed that the company has been holding discussions about how they can go about resurrecting Alfa Romeo's brand image. And the best way to do it, they believe, is if the brand would make a return to competitive motorsport, specifically Formula 1.
Alfa Romeo has plenty of history in Formula 1, with the team having competed as a full-fledged factory outfit in the early 1950s, even winning the first-ever world championship with Giuseppe Farina driving the Alfa Romeo 158. The Italian manufacturer also competed as a constructor and an engine supplier intermittently. After quitting Formula 1 entirely, though, the company largely concentrated on touring car racing, meeting with some success in the Nineties.
Of late, however, Alfa Romeo hasn't met with quite the success that the company had hoped it would see. And, projecting a more sporty image of the company is just what Fiat hopes will strengthen the brand. Establishing a rivalry between Alfa Romeo and Ferrari, and also highlighting their association with each other, is another step that will help the brand grow even stronger, Marchionne revealed in a press conference held at Maranello.
While no timeline was revealed about how and when the manufacturer might make a return to Formula 1, it is interesting to note that Ferrari will supply three teams, other than the Scuderia Ferrari factory team, with engines - Haas F1, Sauber and Toro Rosso. This means that there is the possibility that one of their engines might merely be rebranded ahead of the 2016 season of F1, in order for the Alfa Romeo brandname to make a quick return to the sport.