F1 2019: Charles Leclerc becomes the darling of the tifosi with Monza victory
Charles Leclerc claimed victory at the 2019 Italian Grand Prix in Monza, becoming the darling of the tifosi. The Monegasque driver ended Ferrari's dry spell at Monza, and also claimed his second straight victory of the 2019 season. And his second straight win in Formula 1, after his recent victory at the Belgian Grand Prix.
Charles Leclerc celebrates winning the 2019 Italian Grand Prix
Leclerc, who was on pole at Monza, had an interesting battle for victory with Lewis Hamilton. Both drivers raced hard, went off track a couple of times due to driver errors, and gave viewers plenty to be excited about during the race. Valtteri Bottas also ended up being a contender for victory, after his team-mate made an error which allowed him to steal second place. Ultimately, the Finnish driver wasn't close enough to take first place.
Early on in the race, it was Leclerc's Ferrari team-mate, Sebastian Vettel, who ended up spinning, and received a penalty for dangerous driving, which meant that he was unable to finish within the points. Vettel lost his car midway through Ascari, on the race's sixth lap, and moved back onto track making contact with Lance Stroll. This sent Stroll into a spin, which Pierre Gasly just about managed to avoid.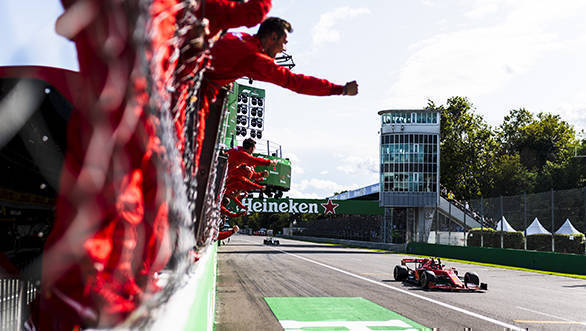 This meant that it was Leclerc who was fighting Bottas and Hamilton for victory. Hamilton pitted first, with the Mercedes team sending him back out with medium compound tyres. Leclerc pitted a lap after, emerging from the pits with hard compound tyres.
While Leclerc still led the race after the first round of pitstops, Hamilton managed to get close on the 23rd lap of the race. He moved on the outside at the Roggia chicane, but ended up being squeezed out by Leclerc, and had to do damage control on an escape road. This meant that Leclerc was shown the black and white flag, essentially a warning to him not to repeat such a move.
Meanwhile, Bottas pitted on the 27th lap, and was also sent back out on track with medium tyres. Hamilton, meanwhile, continued his hunt for Leclerc. It almost seemed like he had his chance to get past him on the 36th lap, however Leclerc managed to defend his position. Leclerc was told by the Ferrari team that he ought to be careful not to move under braking at the chicane, fearing that he might incur a penalty.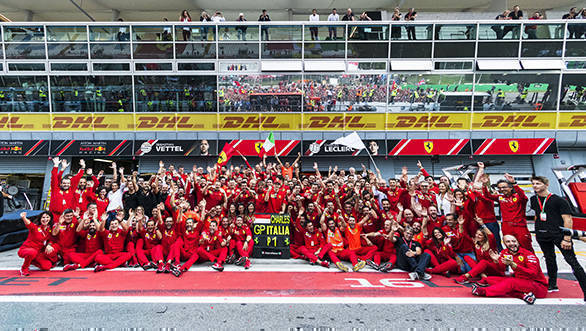 Hamilton, meanwhile, made a mistake on the race's 42nd lap, which meant that he dropped back to third place, while Bottas inherited second place, and the task of chasing down the leading Ferrari. Ultimately, Leclerc crossed the chequered flag 0.8 seconds ahead of Bottas. He became the first Ferrari driver to win at Monza since Fernando Alonso won in 2010.
His win means that he now is third in the championship standings, behind points leader Hamilton, and second-placed Bottas.