F1 2017: Pierre Gasly replaces Daniil Kvyat at the Malaysian Grand Prix
Pierre Gasly, reigning GP2 champion and title contender in the Super Formula Japan, has finally been given the call up to Formula 1. Gasly, who has been linked to a seat at Toro Rosso for a while now, has been announced as one of the team's drivers for the upcoming Malaysian Grand Prix. He replaces Daniil Kvyat at the team.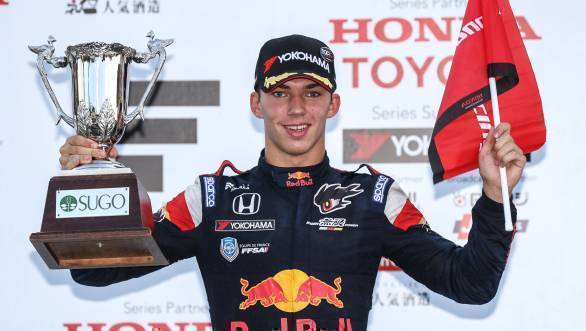 Pierre Gasly will replace Daniil Kvyat for the 2017 Malaysian GP
It is as yet unclear whether or not Gasly will do more races with the team in 2017, and whether Kvyat will get a chance to take his seat back at some point during the remainder of the 2017 season. Gasly is meant to prove himself ahead of the 2018 season of F1, in a bid to earn a full-time drive with Toro Rosso for next season.
Gasly, who has reportedly said that he feels bad about the fact that Kvyat had to make way for him at the Malaysian GP, has also said that he's aware that this is the way the sport of Formula 1 works.
Meanwhile, Carlos Sainz Jr, who leaves for Renault next year, will leave a vacant seat in Toro Rosso. It is for this seat that Gasly is being considered. Gasly has said that he is aiming to do his best at his first race weekend, however, has no target, given that Formula 1 is all-new for him.