F1 2017: Max Verstappen wins Malaysian Grand Prix
Max Verstappen took a terrific win at the 2017 Malaysian Grand Prix, claiming his second Formula 1 victory, after his first win at the Spanish Grand Prix in 2016. The Dutchman overhauled pole-man Lewis Hamilton at the start of the race, and took a dominant win, one day after turning 20. It was also the second race win for the Red Bull Racing team in 2017, with the Daniel Ricciardo having won the Azerbaijan GP earlier this year.
Race winner Max Verstappen of Netherlands and Red Bull Racing celebrates on the podium during the Malaysia Formula One Grand Prix at Sepang
Verstappen, who started third on the grid, ended up gaining a position after Kimi Raikkonen's Ferrari was taken back into the pits after it wouldn't start, no thanks to an engine issue. Verstappen held onto second place for the first four laps, after which he ended up taking the lead from championship leader, Mercedes AMG F1's Hamilton. Verstappen then pulled out a lead over the Mercedes, and didn't really look in any danger of losing his spot at the head of the order.
Hamilton, however, found himself hassled by Verstappen's Red Bull Racing team-mate Daniel Ricciardo. However, the British driver was able to hold off the threat from the Australian. They would finish second and third, behind Verstappen.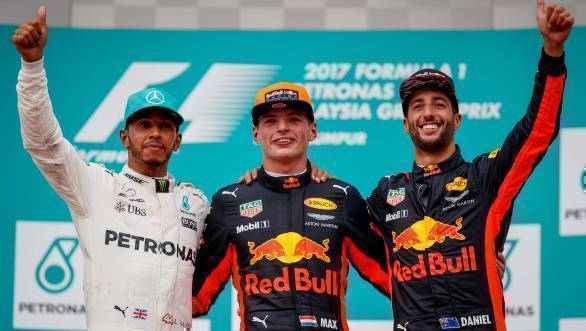 Max Verstappen of Netherlands and Red Bull Racing, second place finisher Lewis Hamilton of Great Britain and Mercedes GP and third place finisher Daniel Ricciardo of Australia and Red Bull Racing celebrate on the podium during the Malaysia Formula One Grand Prix at Sepang
Hamilton's 18 place points-haul ensures that he continues to lead the championship standings, now with 281 points to Vettel's 247. Third place in the championship is currently occupied by Valtteri Bottas with 222 points.
The race did throw challenges in the way of Vettel, who rose to the occasion and put in a good effort to move from dead last (20th position) to 13th on the first lap. Towards the closing stages of the race, Vettel was already hassling Ricciardo for third place, although he would ultimately have to settle for fourth.
It was an unhappy Valtteri Bottas who finished fifth for Mercedes, ending the race 50 seconds after Verstappen. Bottas, who described this period of his career as one of the hardest he's ever had, was unable to match team-mate Lewis Hamilton's pace all weekend.
Sixth place went to Sergio Perez in the Force India, while Stoffel Vandoorne finished the race seventh, giving McLaren a good result. He has also now managed to overtake team-mate Fernando Alonso in the championship standings. Lance Stroll (who was involved in a strange collision with Vettel on the slow-down lap) finished eighth, with team-mate Felipe Massa ninth. Tenth place went to Esteban Ocon.
Alonso finished eleventh, with Kevin Magnussen 12th for Haas, followed by team-mate Romain Grosjean in 13th position. It was a good race for rookie Toro Rosso driver, Pierre Gasly, who took a 14th place finish on his debut. Jolyon Palmer took 15th place, followed by Renault team-mate Nico Hulkenberg in 16th. Sauber drivers Pascal Wehrlein and Marcus Ericsson finished 17th and 18th.