F1 2017: Ferrari launch SF70H
The 2017 Ferrari SF70H with extra wings on the top of the engine cover
Ferrari's 2017 F1 contender is finally here. The Scuderia unveiled their SF70H in an online presentation, and revealed that they believe that this is the car that can win them the 2017 championship title.
Prominent shark-fin engine cover on display on the new Ferrari SF70H
As has become typical of most of the 2017 F1 cars that we've seen launched thus far, the SF70 also features a shark-fin engine cover. But the Ferrari is the first car that features additional winglets at the end of the engine cover.
The new Pirellis are 6cm wider in front and 8cm wider at the rear as compared to last year's tyres
In a statement issued to the press, Ferrari declared "Generally, in the past, regulations went in the direction of slowing down the cars. However, this year, the rule changes go in the opposite direction, meaning the cars have more aerodynamic downforce and more mechanical grip."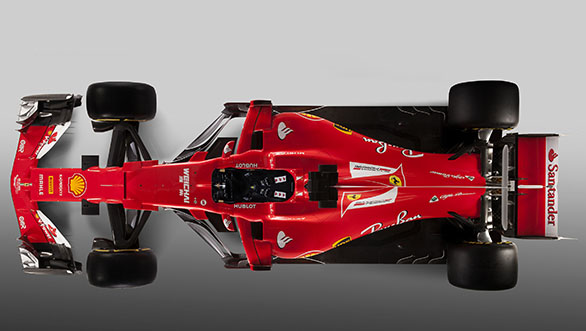 Aerial view of the new Ferrari SF70H
In keeping with the rest of the cars launched so far, the rear wing is lower and wider. The fact that the front portion of the car is now wider, thanks to the wider front tyres means that there is "a "brake" on forward motion as does the increased downforce coming from the 2017 specification front wing, floor and diffuser. Countering this effect, the combination of downforce and the bigger footprint from the tyres translates into increased grip, leading to higher cornering speeds."
Longer nose and arrow shaped wing of the Ferrari SF70H a consequence of the 2017 regulation changes
There are plenty of other changes on the 2017 Ferrari. The car features "complex aero appendages" ahead of the sidepods, as well as a duct in the front that has an aerodynamic function. The roll hoop behind the driver incorporates the engine air intake, which has also been redesigned.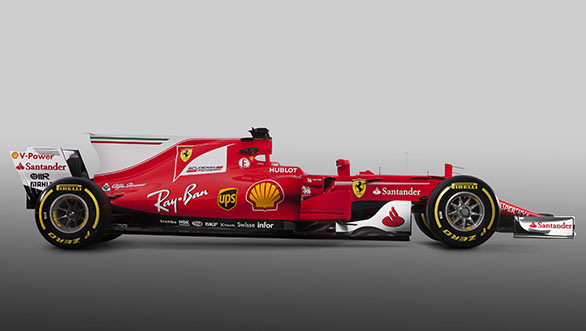 The SF70H gets updated suspension and redesigned wheel nuts
Other changes to the car include a revamped suspension system and redesigned hubs and wheel nuts to aid mechanics during pitstops.