F1 2016: Nico Rosberg on pole at Hungarian GP
People who were trackside at the Hungarian GP certainly got their money's worth at least in terms of the length of the qualifying session, although the fact that they were probably soaked through probably put a dent in their enthusiasm. With Q1 going on for over 70 minutes, this was one of the longer qualifying sessions we've witnessed in recent times (save for the rain soaked US GP last year). Nonetheless it was a good time for Mercedes AMG F1 fans, with Nico Rosberg claiming pole position for the race. Rosberg clocked a time of 1min 19.965sec, which couldn't be bested by his team-mate Lewis Hamilton.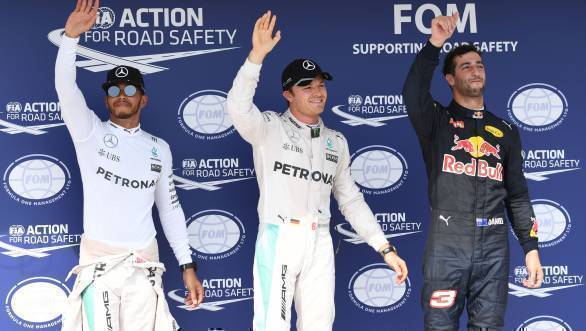 Nico Rosberg will start the 2016 Hungarian GP on pole. Here he is flanked by Mercedes team-mate Lewis Hamilton and Red Bull's Daniel Ricciardo.
The fact that Rosberg's fastest lap was one where there were yellow flags being waved for the stricken McLaren of Fernando Alonso, meant that the stewards decided to investigate Rosberg's driving that particular lap. However, telemetry data would later reveal that the German had slowed down significantly at Turn 8, putting him in the clear and allowing him to retain his pole position.
Hamilton lines up second on the grid, allowing Mercedes a front row lockout. Row 2 of the grid sees Red Bull Racing's Daniel Ricciardo third, with team-mate Max Verstappen fourth. After Kimi Raikkonen wasn't able to make it into Q3, it was his team-mate Sebastian Vettel who managed to put Ferrari fifth on the grid. Joining him on the third row of the grid is Carlos Sainz in his Toro Rosso.
Fernando Alonso, despite his spin, will start the Hungarian GP seventh on the grid, giving McLaren their very best starting position since the 2014 season. Making things even better for the Woking based team is the fact that his team-mate Jenson Button lines up alongside him in eighth. Sahara Force India's Nico Hulkenberg, and Williams driver Valtteri Bottas round up the top 10 on the grid at the 2016 Hungarian GP.