F1 2015: Hamilton takes commanding win at Japanese GP
If there's one thing that Lewis Hamilton is determined to do, it is take home the 2015 Formula 1 world championship title. And while he has made this clear all through, Hamilton drove home the point at the 2015 Japanese Grand Prix, winning the race ahead of team-mate Nico Rosberg and Ferrari driver Sebastian Vettel. This was his eighth win of the 2015 season, as well as his 41st career victory, which means Hamilton has equalled Ayrton Senna's number of Formula 1 wins.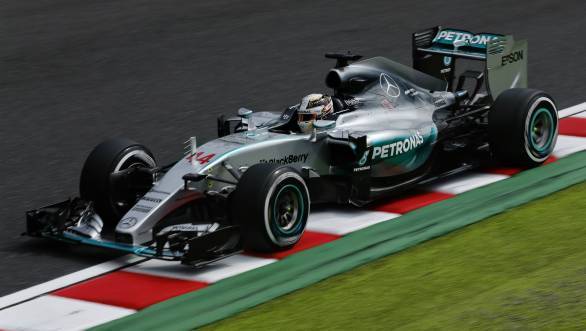 Lewis Hamilton extends his lead to 48 points in the 2015 F1 title race with the win at Suzuka
When the five red lights went out at Suzuka, even though it was Nico Rosberg who was on pole, Hamilton made the better start. He got past Rosberg on the exit of the second turn and took off into the lead. Meanwhile, Rosberg ran wide, allowing Vettel and Williams driver Valtteri Bottas, to make their way through to second and third. Ahead of them Hamilton put in lap after consistent lap, increasing the gap to the chasing pack. It would turn out to be a quiet race for Lewis.
Not so for his team-mate. Rosberg would have to spend his race playing catch up. While he pitted early to try and get the jump on Bottas, that didn't work. But Rosberg managed to make a move on the Williams driver and then set about chasing Vettel. When the second set of pitstops was done with, he'd managed to get past the Ferrari driver too.
Catching up to Hamilton, though, wasn't something that was possible at all. When the chequered flag fell, Rosberg was a full 19 seconds behind his team-mate. The win means that Hamilton now leads the championship by 48 points, with five races left this season.
Fourth place went to Kimi Raikkonen, with Bottas fifth. It was a terrific race for Nico Hulkenberg, given that despite the fact that he started 13th on track and was involved in a skirmish that sent his team-mate off track, he managed a sixth-place finish. Lotus drivers Romain Grosjean and Pastor Maldonado finished seventh and eighth.
Max Verstappen was the other big winner, starting the race 18th and finishing all the way up the order in ninth, even muscling his way past team-mate Carlos Sainz Jr. in the Toro Rosso. Sainz settled for tenth place.
The best of the McLarens finished 11th with Fernando Alonso at the wheel, while Perez finished 12th, Daniil Kvyat 13th in the first Red Bull, and Marcus Ericsson 14th for Sauber. Daniel Ricciardo, after a scuppered first lap, could do no better than 15th.
Jenson Button finished 16th, Felipe Massa 17th, Will Stevens 18th and Alexander Rossi 19th. Felipe Nasr in the Sauber was the sole non-finisher at Suzuka.