F1 2015: Hamilton reigns supreme at Chinese GP
It must be tough being Sebastian Vettel at the post-race press conferences, when the Mercedes duo beside you keeps on bickering. Well, that's what happened at the post-race presser at the Chinese GP, with Lewis Hamilton having to defend himself for focussing on his own race, while team-mate Nico Rosberg claimed that Hamilton had gone slower than was necessary, thereby compromising his race and allowing Sebastian Vettel to catch up. Whatever the case might have been, there's no taking away from the fact that Lewis Hamilton had a rather perfect weekend at Shanghai. He topped every free practice session, claimed pole in qualifying, set the fastest lap of the race, and, en route victory, never really came under serious threat. No, not even from his team-mate. It was his second win of three races in 2015, and his fourth win at China.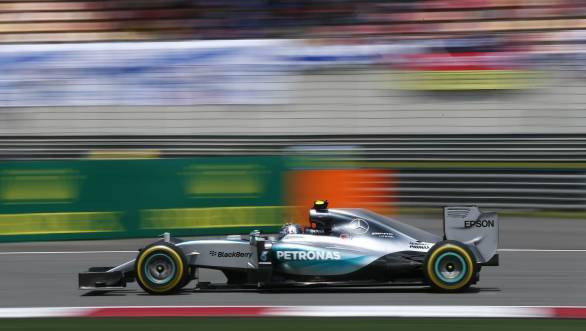 Pole, fastest lap and race win for Lewis Hamilton at the 2015 Chinese GP
Finishing behind him, and giving Mercedes their second 1-2 finish of the year was Nico Rosberg. The German driver, however wasn't pleased with his lot, and it seems like that never-ending saga of the sparring team-mates will continue on through 2015. Third place went to Scuderia Ferrari's Sebastian Vettel, who took his third podium finish of 2015. This means that Lewis Hamilton is currently only 13 points ahead of the Ferrari driver, while Rosberg is 17 points behind the championship leader.
Finishing fourth for Ferrari was Kimi Raikkonen. Fifth and sixth place went to the Williams duo of Felipe Massa and Valtteri Bottas, while Romain Grosjean finished seventh for Lotus. Sauber driver Felipe Nasr finished eighth, with Daniel Ricciardo in the Red Bull recovering to a points-scoring finish after a disastrous race start. Marcus Ericsson in the second Sauber rounded off the top 10.
Sergio Perez brought the lone finishing Force India home in eleventh place, ahead of the two McLaren drivers Fernando Alonso and Jenson Button. The last three finishers were Carlos Sainz Jr, followed by Will Stevens and Roberto Merhi.
Special mention must go to rookie Max Verstappen who was in contention for another points-scoring finish, having sliced and diced with Perez earlier in the race, but whose Toro Rosso gave up on him with three laps to go. Pastor Maldonado, Daniil Kvyat and Nico Hulkenberg were the other two non-finishers.