F1 2014: Rosberg wins Austrian GP to extend championship lead
With each passing race, no matter how often Toto Wolff insists to the world that his two drivers Nico Rosberg and Lewis Hamilton are free to spar with each other, matters within the Mercedes camp are getting more and more tense. Hamilton seems to alternate between telling the world that him and Rosberg aren't friends, only to renege and regale anyone who will listen with tales of exactly what good pals they are. Whatever their personal equation might be, it doesn't change one thing - both Hamilton and Rosberg are quite keenly gunning for the 2014 Formula 1 world championship. Oh, and we suspect it doesn't matter much to the higher ups at Mercedes who brings home the trophy. Silverware, after all, is silverware.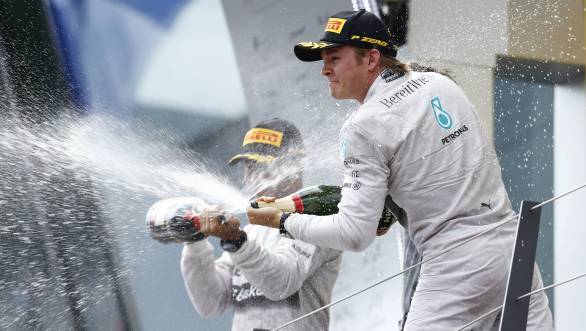 Rosberg now leads the championship by 29 points from Hamilton
Going into the Austrian GP, it was the Mercedes drivers who were still very much in a tug of war for the championship. Which is why it came as something of a surprise that it was Williams driver Felipe Massa who was on pole, with his team-mate Valtteri Bottas helping him lock out the front row. The Mercedes drivers could do no better than third - Nico Rosberg, and ninth - Lewis Hamilton.
When the five red lights went out on Sunday, the Williams pair of Massa and Bottas managed to hold their own. Massa led the opening stint of the race, and even though Bottas lost out on second place to Rosberg, it was only temporary. Hamilton made a good start, pole-vaulting from ninth on the grid to fourth place, slotting in just behind his team-mate. It wasn't the easiest of races for Hamilton, who suffered braking issues that didn't seem to plague his team-mate's car.
When the first pitstops were done, the Mercedes duo had managed to get the jump on the Williams pair. When Bottas finally made his stop, he was able to slot in between Rosberg and Hamilton. As the race wore on though, he would have no answer to the pace of the Mercedes. Rosberg would win the race, with Hamilton second and Bottas third. The win would help Rosberg extend his lead in the championship by 29 points from Hamilton. It was Bottas' first F1 podium, and the first for Williams in 41 races.
Massa brought home the second Williams in fourth place on the grid, with Ferrari driver Fernando Alonso finishing fifth. The Force India drivers managed to bring both their cars home in the top 10, with Sergio Perez finishing sixth and Nico Hulkenberg ninth. Kevin Magnussen finished eighth, while Daniel Ricciardo rounded off the top 10. Ricciardo's Red Bull Racing team-mate and four-time world champion Sebastian Vettel failed to finish the race, as did the two Toro Rossos of Jean-Eric Vergne and Daniel Kvyat.