EVs that made the headlines in 2022
The EV wave is now and 2022 saw a huge number of manufacturers enter this space. We pushed these EVs to their limits and most of them came of with flying colours, so let's take a look at the EVs that created headlines in 2022.
The Tata Nexon EV Max gets a larger 40.5 kWh lithium-ion battery pack, up from the 30.2 kWh pack in the standard SUV. Consequently, the ARAI-certified range has gone up to 437 km. This is up from the 312 km of the smaller-battery variant and should lead to a real-world range of over 300 km. The Nexon EV Max also gets a more powerful motor making 143PS and 250 Nm, good for a 0 to 100 kmph time of under 9s while the top speed is now 140 kmph.
There is also a wider range of connected car functions as well as ventilated seats, wireless charging, an auto inner mirror, cruise control and an air purifier. Further, a new intense teal dual-tone paint option has been added. The safety equipment has remained unchanged save for the addition of ESC, hill-hold and hill-descent control and well as all-around disc brakes. The Nexon EV Max is offered in the top XZ Plus and XZ Lux variants of the electric SUV and gets features like a 7-inch touchscreen, RS16 alloy wheels, a sunroof, climate control, a semi-digital instrument cluster and LED lighting.
An 83.9 kWh(80.7 kWh) battery pack powers the single-motor i4 eDrive40 and has a WLTP range of up to 590 km. The BMW i4 is based on the firm's CLAR architecture which it also shares with the 4 Series Gran Coupe. Although, significant structural changes have been made to the suspension, front sub-frame and underbody to accommodate the battery pack and EV drivetrain. The rear-motor i4 eDrive40 can do the same sprint in 5.7s and puts out 340PS and 430 Nm
The exterior gets EV-focused enhancements like a blanked-out front, flush door handles and aero wheels. The interiors of the BMW i4 are similar to that of the 4 Series Gran Coupe it is based on. Notable features include a special soundtrack composed by Hans Zimmer, a 12.3-inch instrument cluster, 14.9-inch touchscreen with the latest iDrive 8, double-glazing,
The Tata Tigor EV continues to be powered by a 26 kWh LFP battery pack that powers a 75PS and 170 Nm motor. Tata Motors has refined the drivetrain to increase the range from 306 to 315 km.
The new Tata Tigor EV can now be had in a new red paint option. Further, a new XZ Plus top variant has been added that gets you features like leatherette upholstery, leather-wrapped steering wheel, rain-sensing wipers, auto headlamps and cruise control. There are also regen modes now as well as tech features like Zconnect connected tech, smartwatch connectivity, TPMS and a tyre puncture repair kit which will be standard across the range.
Mercedes-Benz EQS and Mercedes-AMG EQS 53
The Mercedes EQS available in India has a WLTP-certified range of 676 km making it the longest-range EV in India, the ARAI certification is 857 km. The EQS 580 uses a large 107.8 kWh lithium-ion battery pack that can be charged at up 200 kW with a DC fast charger. The EQS 580 makes 523PS and 855 Nm and can do 0 to 100 kmph in 4.3s.
The Mercedes-AMG EQS 53 is powered by a 107.8 kWh battery pack. The dual-motor set-up uses AMG-specific motors with more windings, stronger currents and software tweaks that allow for more power, especially from the rear moor. There's better heat management to go with this too. So in standard form, the AMG EQS 53 puts out 667PS and 950 Nm. Specified with the optional AMG Dynamic Plus package and with launch control activated, the electric AMG ups this to 771PS and 1050 Nm. In this guise, the AMG EQS 53 can do 0 to 100 kmph in 3.4s and reach a 250 kmph top speed.
The Mercedes-Benz EQS range gets a host of features like the digital lights, the massive 56-inch MBUX Hyperscreen, rear-wheel steer, 15-speaker Burmeister audio, sound modes, powered doors, HEPA air filter, 9 airbags, lane keeping aid, active brake assist and pre-safe.
The Tata Tiago EV is expected to get two battery and range options. The Tiago EV uses the firm's Ziptron high-voltage electric architecture in a larger 24 kWh capacity to return an MIDC-certified range of 314 km. A smaller 19.2 kWh liquid-cooled battery returns 250 km of range. The battery pack is weather and impact resistant and carries an 8-year and 1.6 lakh km warranty. The larger pack returns 55 kW and 114 Nm, the smaller one makes 45 kW and 104 Nm. The Tiago EV can do 0 to 60 kmph in 5.7s.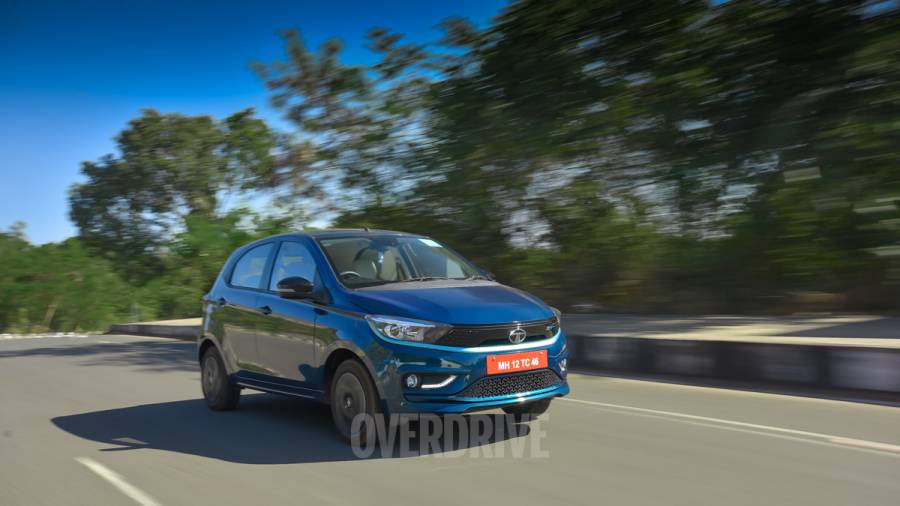 New features over the combustion-engined Tiago include cruise control and multi-mode regen as well as a sport mode, auto headlamps and wipers, 8-speaker Harman audio, TPMS and connected tech. Other features carried over from the Tigor EV are digital instrumentation, a seven-inch touchscreen infotainment system, LED DRLs, projector lamps, push button start/stop. driver seat height adjustment, tilt steering adjustment and LED taillamps.
BYD Atto 3
The BYD Atto 3 is based on BYD's e-Platform 3.0 which has been designed specifically for electric vehicles. It continues to use the company's proprietary Blade LFP battery technology for its 60 kWh battery pack that gives it a WLTP range of 420Km and an ARAI-rated range of 521 km. Powering this EV is a 204PS and 310Nm electric motor on the front axle which gets it from 0 to 100 kmph in 7.3s. Top speed is limited to 160 kmph.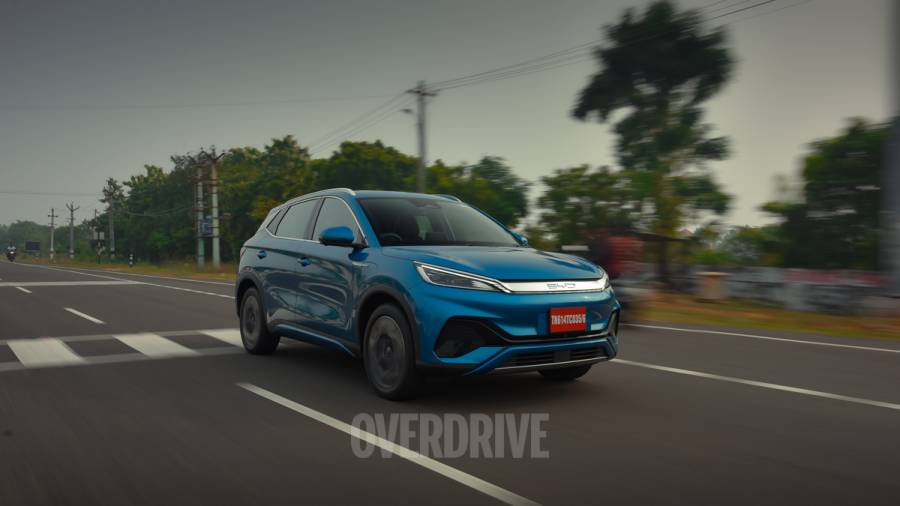 Notable features include a panoramic sunroof, a rotatable 15.6-inch touchscreen, OTA updates, Dirac audio, a panoramic sunroof, dual-zone climate control, NFC key card, wireless charging and a powered tailgate. There is also a full suite of ADAS functions like adaptive cruise control, blind-spot monitoring, lane-keeping assist, rear cross-traffic alerts and avoidance, and front collision avoidance among other things. There is also 360-degree cameras and 7 airbags.
PMV EasE
A 48-volt lithium iron phosphate battery that is structurally connected to the PMV Eas-body E's structure powers the vehicle. Despite the fact that the capacity has not been disclosed, it will be available in a number of variations with ranges of up to 120 km, 160 km, and 200 km. The PMV EasE is driven by a front-mounted e-motor with 13.5PS and 50Nm of power, which is significantly less than most ordinary automobiles but still sufficient for a peak speed of up to 70kmph.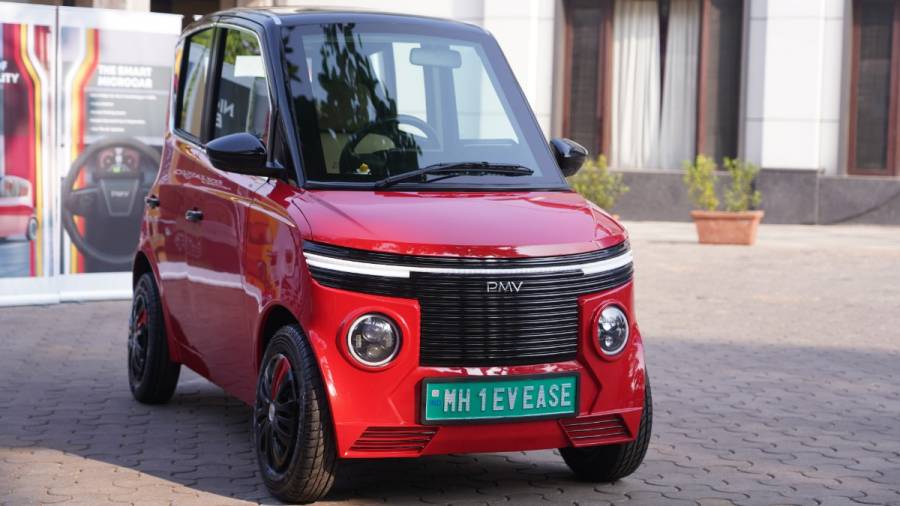 Since the Eas-E is a quadricycle, it features a slim dashboard with the steering wheel situated in the middle and the handbrake placed to the left of the manually adjustable driver's seat. The majority of the switchgear on the steering wheel and console appears to have been taken from a Honda parts bin. The Eas-E also features an LCD digital instrument cluster and an infotainment screen with smartphone connectivity and integrated navigation.
Pravaig Defy
A 90kWh battery pack from Pravaig powers Defy's two electric motors, which provide a massive 402PS and 620Nm to all four wheels. The system has a range of more than 500km. You can reach 100 kph in 4.9 seconds from a complete stop, and the SUV can take you as fast as 210 kmph. It takes 30 minutes to charge from nothing to 80 percent when connected to a fast charger.
Environmentally friendly materials are frequently used on the inside, including recycled nylon, vegan leather, and technical textile made from PET bottles. Regarding extras, there is also a sizable 15.6-inch touchscreen infotainment system that resembles a Tesla. Air conditioning and motorized front seats, a dual-pane glass roof, an air filter, and ambient lighting should also be standard.
The 3.44kWh detachable battery pack for the V1 Plus has a remarkable 143km of IDC range. On the other hand, the V1 Pro has a remarkable 165km of range and a slightly larger 3.94kWh detachable battery pack. Be aware that the range is probably to decrease under real-world circumstances.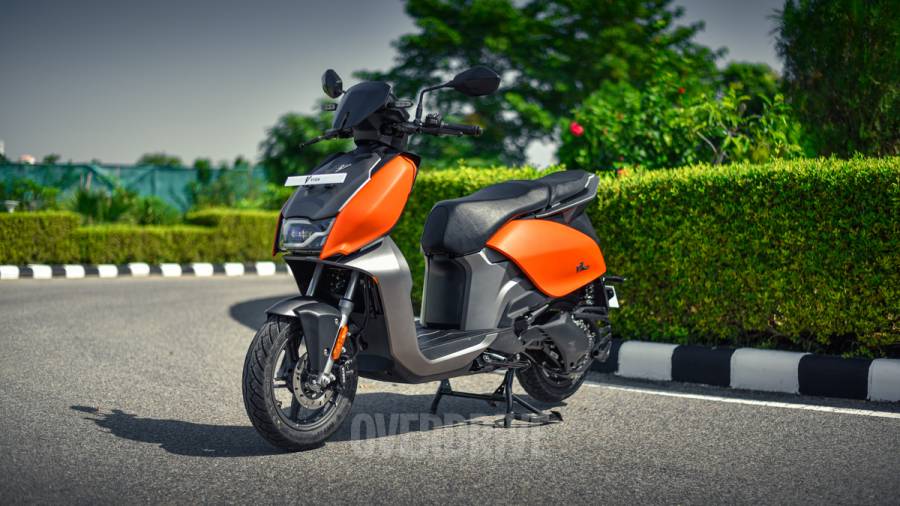 The features list includes full-fledged navigation, a fully digital TFT touchscreen instrument console, customisable ride modes, two-way throttle, cruise control, turn-by-turn navigation, parking assist, emergency alert and a key fob for keyless access. It also gets trip analytics, scooter diagnostics, and document storage.
Ola S1 Air
The S1 Air gets a smaller 2.5kWh battery unit in comparison to the 3Kwh battery in the S1 and the 4kWh unit in the S1 Pro. This brings its claimed ARAI figure 101km on a complete charge. Its 0-40kmph sprint time isn't as quick as the other two and its top speed is limited to 90kmph. the Air also has a slightly smaller boot with 34 litres of storage space on offer.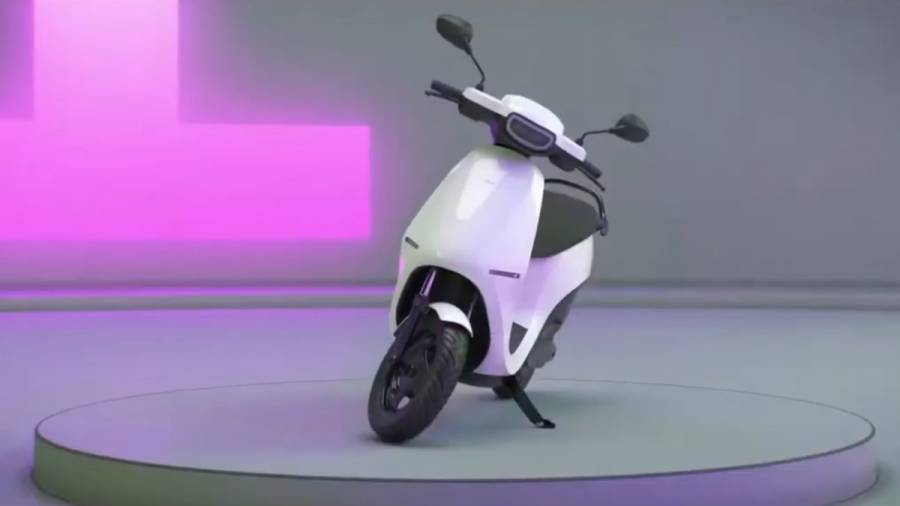 In terms of features the S1 Air surprisingly gets a lot of the top-end features from its more premium siblings such as the Reverse mode, Ten there's seven-inch touchscreen display, which allows smartphone connectivity, it's multiple ride profiles, music and call management with dedicated buttons, multiple riding moods. The scooter also gets inbuilt speakers as well.
Ultraviolette f77
There are essentially two versions of the F77. The one with a 7.1kWh lithium-ion battery pack has a range of claimed 206km. It puts out 36PS of peak power and 85Nm of torque. The bigger SRB10 10.3kWh lithium-ion battery pack (making it the biggest battery pack on an electric motorcycle in our country, to date). The motor on this version of the bike makes 38.8PS of max power and 95Nm of torque while extending the range to 307km (IDC test) on a single charge.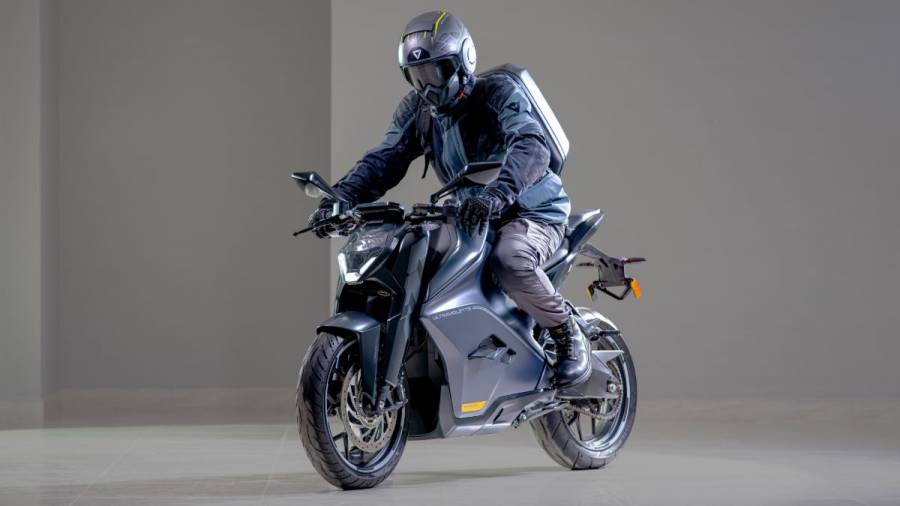 The left of the bar comprises a 5-way control pad to toggle through options on the 5-inch TFT dashboard, while the right-hand side features arm/disarm and ride mode buttons. The F77 gets a couple of charging options as well as the standard charger which will give you 35km in one hour of charge, and you'll also have the option of a boost charger that will give you 75km in one hour of charge. The electric gets features like a 9-axis IMU, dual-channel ABS, multiple riding modes and regenerative braking; among others.
Price (Ex-Delhi)
Starts Rs 69.9 Lakhs
Price (Ex-Delhi)
Starts Rs 6.95 Lakhs
Price (Ex-Delhi)
Starts Rs 13.99 Lakhs
Price (Ex-Delhi)
Starts Rs 17.74 Lakhs
Price (Ex-Delhi)
Starts Rs 4.6 Lakhs
Price (Ex-Delhi)
Starts Rs 5.75 Lakhs
Price (Ex-Delhi)
Starts Rs 11.99 Lakhs
Price (Ex-Delhi)
Starts Rs 1,10,149