Driverless workspace concept vehicle to debut at Geneva Motor Show
Flexible workspace provider Regus has tied up with Rinspeed, a Swiss creative think tank and mobility lab, to develop a self-driving concept car called the XchangE.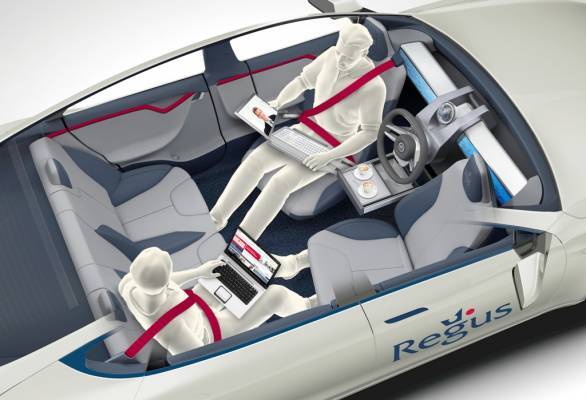 The XchangE concept is essentially a driverless car, in which the front seats swivel back to turn the car into an office on wheels
This concept will be showcased at the Geneva Motor Show in March. In the past, Regus has collaborated with companies like Google, Toshiba and GlaxoSmithKline to help design a flexible and productive office environment. It has also created walk-in business facilities alongside motorways, railway stations and other public transport hubs in Europe.
The XchangE concept aims to take forward Regus's vision of creating a 'third place' work option (aside from office and home), making better use of the commute to work and back home.
The design of the self-driving concept car allows the two front seats to swivel backwards, creating a mobile work and meeting space for four people. The car gets advanced technology and infotainment systems that allow passengers to connect to their office, make presentations and basically turn traffic jams into "productive time at the office".
Read full press release below.
XchangE driverless workspace concept by Regus and Rinspeed
Self driving car concept will transform working on the move Regus plans another workplace revolution that will change the way people work, meet and travel Mumbai, 20 February 2014 – A new self driving car concept will transform the car into a fully connected office and meeting space. Car journeys will become a time for professionals to do business; driving will no longer be dead-time away from work or home. Flexible workspace provider Regus has partnered with Rinspeed on the development of the concept car, the XchangE, which will be displayed at the Geneva Motor Show in March. The concept backs Regus's own drive to help people work on the road, and links to the growing network of Regus Express locations on Europe's motorway network. Its 'third place' (not the office, not home) work options could include the car, as well as other transport hubs. The innovative design of the XchangE allows the two front seats to swivel backwards, creating a mobile work and meeting space for four people. The car's advanced technology and infotainment systems allow passengers to connect to their office, work productively, or make a presentation using a laptop. The result is a comfortable and confidential space that turns a traffic jam on the way to the airport into productive time 'at the office'. As well as helping people do business on the move, the self driving car offers professionals more flexibility over their working schedules. With business completed wherever they are and whenever it suits them, there's less need to take work home or miss out on family life. Already, businesses that offer more flexible working to their staff see clear benefits. In Regus research among over 20,000 people globally, 75% of business people say flexible working boosts productivity. Regus's involvement with the XchangE concept complements its other innovations to help people work more flexibly. Its Regus Express strategy has already brought walk-in business facilities and workspaces to the road and motorway network, and other transport hubs – including railway stations, motorway service stations, and, in a pilot with Shell, petrol stations throughout Berlin. Andre Sharpe, Global Product and Business Development Director at Regus, commented: "Regus has long been committed to developing the Future of Work. Now this innovative car will change wasted time into productive time. "People already work on the road, thanks to Regus. Now, with the XchangE, Regus's third place network could encompass the car itself as well as the roadside. A consultant or sales rep could fit in 7-8 hours of productive work each day, using a driverless vehicle, Regus hubs on motorways, and our network of business centres. It's another illustration of Regus's commitment to leading the workplace revolution." Frank M. Rinderknecht, founder and CEO of Rinspeed Inc, adds: "Autonomous cars no longer require drivers to watch the road, so there's an opportunity to make more meaningful use of their time. Regus's expertise in helping people work more productively and flexibly makes it the ideal partner for developing this new concept." About Regus Regus is the global workplace provider. Its network of more than 1,800 business centres in 100 countries provides convenient, high-quality, fully serviced spaces for people to work, whether for a few minutes or a few years. Companies like Google, Toshiba and GlaxoSmithKline choose Regus so that they can work flexibly and make their businesses more successful. The key to flexible working is convenience and so Regus is opening wherever its 1.5million members want support – city centres, suburban districts, shopping centres and retail outlets, railway stations, motorway service stations and even community centres. Founded in Brussels, Belgium, in 1989, Regus is based in Luxembourg and listed on the London Stock Exchange. For more information, please visit www.regus.com About Rinspeed Rinspeed is a Swiss creative think tank and mobility lab for the automotive industry for more than thirty-six years. Innovations, visions and creations, always paired with emotions, result in a long list of products used and enjoyed by the motorists around the globe every day. Visionary mobility concepts, innovative drives, sustainability, comprehensive network and stated competences in worldwide communications are part of the core business. It is privately held and run by its founder - Frank M. Rinderknecht. Rinspeed makes the future reality - today. For more information, please visit www.rinspeed.com