Dakar 2021: Stage 10 sees fifth consecutive top 10 stage finish for Hero MotoSports
After a relatively short Stage 10 of the Dakar 2021, Hero MotoSports riders Joaquim Rodigues and Sebastian Buhler managed a 10th and 21st place finish respectively. This makes it the fifth consecutive top 10 stage finish for the team, another first. With two stages left to go in the race, JRod holds his position in 11th overall, while Buhler is at 16th. Both riders will definitely be looking to consolidate their positions, and move up the rankings for an overall team finish in the top 15.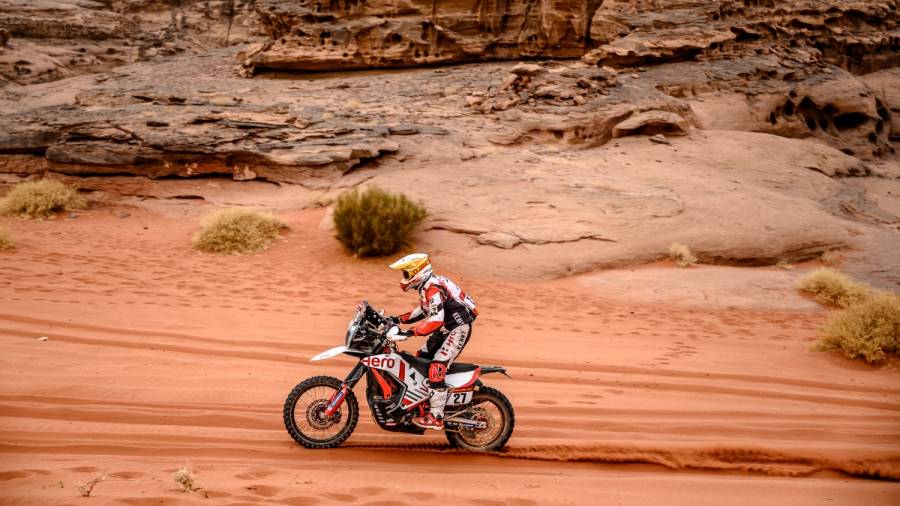 While JRod finished in 10th spot, he was 16m24s behind the lead rider, with other riders similarly spaced behind the lead, highlighting that though the 583km of total distance in Stage 10 was short, the stage was tricky. JRod comments, "It was a pretty fast and dangerous stage again today with a lot of rocks. I decided to focus more on navigation and it all went pretty well. I managed to ride at a good pace and did not commit any navigation mistakes. I am happy to finish the stage and get a good result for the team." 
Buhler explains his slip to 21st on stage, "I made a mistake in the beginning of the stage today that cost me a lot of time. But after that it went well as I began to feel good on the bike and got into a decent rhythm. Now only two days are left for the finish so it is important to concentrate harder and get a good result, but at the same time not take unnecessary risks as well."
Stage 11, the penultimate stage from AlUla to Yanbu, will once again push competitors right to the limit, with the longest special stage in the rally, at 464km. It also spells the return of the dunes, with almost a hundred kilometres of sand forming a vast expanse. 
Also read, 
Dakar 2021: Both Hero MotoSports riders firmly in top 20 overall after Stage 9