Dakar 2021: Hero MotoSports team finishes Dakar with both riders in top 15 overall
Dakar 2021 has come to a close and both Hero MotoSports riders delivered great performance in the short Stage 12, with Joaquim Rodrigues coming in 9th, and Buhler not far behind in 11th, to solidify their overall standings in the top 15. In the overall leaderboard, JRod stands 11th, and Buhler 14th, which makes it his best Dakar finish so far. For Buhler, it's only his second Dakar attempt making the top 15 all the more momentous. JRod had his best ever finish at the Dakar in his debut in 2017, with a 10th spot finish. The team, as always, has Paulo 'Speedy' Goncalves in their hearts and dedicate their performances to their teammate who lost his life in a tragic accident at last year's Dakar.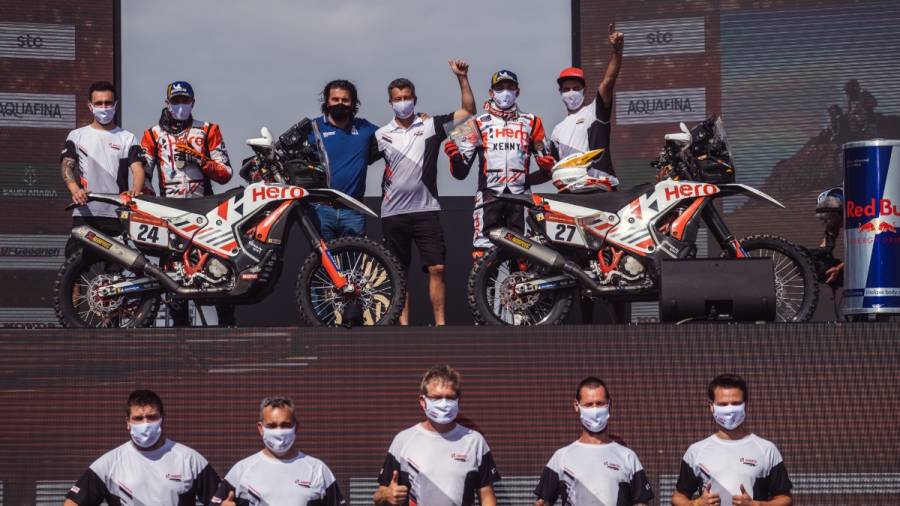 Buhler (Comp. no 24) and JRod (Comp. no 27) joined on the podium by the Hero MotoSports Team Rally, team manager Wolfgang Fischer (left of JRod) and Dakar director David Caster (right of Buhler)
JRod says, "I am so happy to have made it to the finish line. The stage had a lot of navigation so I tried to focus on that and avoid making any more mistakes in this last stage. The last few kms were the longest ever for me and when I saw the finish line I just felt so relieved. I made it to the finish for Paulo and my family. I want to thank all my team mates, Hero family and everyone who supported me to come back here and race again." 
Buhler tackling the last stage of Dakar 2021
To reiterate, the Hero MotoSports Team Rally also debuted their new 450 Rally at this Dakar, and with testing cut short by the pandemic and ensuing lockdowns, the motorcycle's 100 per cent finish rate in every stage stands testament to its reliability and solid pace, and the work that the team has put into it. Team manager Wolfgang Fischer comments, "Crossing the finish line of any Dakar is a great feeling but this year is very special for me personally and for the team as well. After what happened last year, we were not sure how we would be able to come back together like this and race again. But we did manage to pull off this amazing feat thanks to the will power and drive of the team. Then with the pandemic posing more challenges, it was very important to put up a reliable and competitive bike for the riders. Everyone stepped up and made the most of every small opportunity we got to test and develop the bike. At the Dakar, we had the accident of Santosh that shook us all over again. Our prayers and wishes goes out to him for a speedy recovery and we hope to see him back with us soon."
In the latest update, we hear CS Santosh has been transferred from Riyadh to Bengaluru, and has successfully been brought out of the induced coma, or state of sedation, that he was being maintained in. He will continue to be monitored in the hospital to prepare him for the next stage of his recovery.