Dakar 2017: Toyota Gazoo Racing's Nasser Al-Attiyah leads the Car category after Day 1
The first stage of the 2017 Dakar Rally had a very short competitive section of just 39km. However, it played an important role in deciding a team's starting strategy for Stage 2. For instance, Team Yamaha's rider Xavier De Soultrait had finished fastest in the competitive stage, but decided to overspeed on purpose during the return leg to get a one-minute penalty, which dropped him to tenth place. By doing so, first place was handed to TVS Sherco Racing Team's Juan Pedrero Garcia, who finished with a time of 28m22s, so De Soultrait wouldn't have to start at the front of the pack. Standing second in the Bike category after Stage 1 is Team Honda Racing's Ricky Brabec (28m34s), while his team-mate, Paulo Goncalves finished 14 seconds behind him to take third. Toby Price, who won the 2016 Dakar's Bike category, stands at 17th just behind Hero MotoSports Team Rally's Joaquim Rodrigues, with a time of 29m45s.
Team Honda Racing's Ricky Brabec makes his way through a water crossing on his Honda CRF 450 Rally
Leading the Car category into Stage 2 are Toyota Gazoo Racing's Nasser Al-Attiyah and his co-pilot, Matthieu Baumel. They finished Stage 1 with a time of 25m41s despite having a small fire in his front left wheel case caused by an oil leak and the heat. Meanwhile Xavier Pons and Ruben Garcia took second, completing the stage in 26m05s. In third were Nani Roma and Alex Haro Bravo, who finished five seconds behind Pons. Defending champion, Stephane Peterhansel and his co-pilot Jean Paul Cottret, stand at 12th place with a time of 27m15s. His team-mates, Carlos Sainz, Sebastien Loeb and Cyril Despres are at fourth, sixth and eighth, respectively.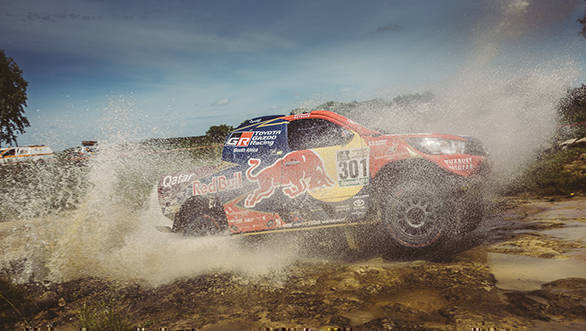 Nasser Al-Attiyah, who is now racing with Toyota Gazoo Racing, leads the Car category after Stage 1
Martin Kolomy and co-pilots, Rene and David Kilian, will lead the Truck category on Day 2 after posting the fastest time of 30m in the first stage. Petronas Team De Rooy Iveco's Ton Van Genugten, who finished 13 seconds after, stands at second while Martin Van Den Brink who took 30m25s to complete the stage, is third. Last year's champion, Gerard De Rooy, is fifth after completing the stage in 30m42s.
The Quad category has Brazilian, Marcelo Medeiros on the top after he completed the competitive section in 32m53s. Standing second, is Gaston Gonzalez with a time of 33m55s, while Nelson Augusto Sanabria Galeano, who finished 1m37s behind him, is third.
Stage 2 will take participants on an 812km journey from Resistencia to San Miguel De Tucuman. They will have 284km of competitive sections through a region which has been nicknamed Chaco after the fine chalk-like dust present there.