Dakar 2016: Alain Duclos retains 10th overall for Sherco TVS after Stage 5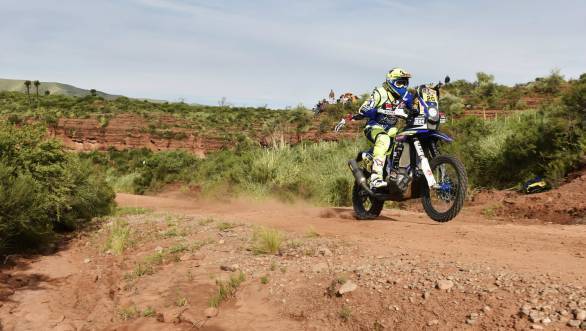 Sherco TVS rider Alain Duclos is ranked 10th overall in the motorcycle class after five stages
Juan Pedrero Garcia led the Sherco TVS assault during the fifth stage of the 2016 Dakar Rally. The rider, astride a Sherco TVS RTR450, managed to finish highest of all the Sherco TVS riders, climbing to 9th in the stage.
His team-mate Alain Duclos, who has been the man in charge as far as Sherco TVS's Dakar hopes go this year, finished second best of the three riders. The Frenchman could do no better than 10th during the stage from Jujuy to Uyuni, one place behind his team-mate.
The team's third rider, Florent Vayssade, finished Stage 5 in 22nd position. This was over 14min behind the stage leader.
In the overall standings in the motorcycle category, it is Duclos who still leads the charge with 10th place overall. Team-mate Pedrero is currently 14th overall in the motorcycle category. Vayssade, down in 33rd place overall, brings up the rear for the Sherco TVS squad.