Dakar 2015: Al-Attiyah continues to reign after Stage 4
The challenge for competitors in the 2015 Dakar Rally on the fourth day of the event was to be geographical and terrain based more than anything else. The competitors would have to grapple with extreme altitude as they entered Chile and then tackle the sand dunes of the Atacama Desert. The Dakar was getting more challenging by the day. While cars, motorcycles and quads had to cover 315km, trucks had to traverse 174km on their way to Copiapo.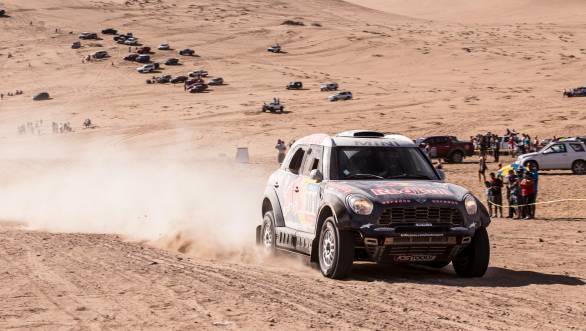 Overall leader in the car category is Nasser Al-Attiyah
In the Car Category, Qatar Rally Team's Nasser Al-Attiyah took his second stage win of the 2015 Dakar, managing a particularly strong performance over the final few kilometres of the course. Finishing second to him was defending Dakar champion Nani Roma, while Giniel de Villiers took a third place finish at the stage. The stage win cemented Al-Attiyah's position at the top of the overall timing sheets, with the driver leading de Villiers in second place. Yazeed Al-Rahji who pilots a Toyota is currently third overall in the category.
Strong performances from HRC's Joan Barreda Bort see him in the lead of the Dakar on two wheels
On two wheels Joan Barreda Bort kept up his terrific performance this year. The Spaniard had a tough battle with reigning Dakar champion Marc Coma, but it was the HRC rider who had the advantage and managed to take his second stage win of 2015. Coma could only manage to bring home his KTM second. Pablo Quintanilla managed his best performance so far, taking third place in the stage. Overall, in the motorcycle class, Barreda Bort has a 12 minute advantage to Coma. While Honda rider Paulo Goncalves is currently third in the standings. The stage wasn't too good for yesterday's winner Matthias Walkner, with the Austrian rider losing time with off trail excursions.
Win in the fourth stage puts Kamaz driver Eduard Nikolaev second in the truck class
The Truck Category of the event is currently still dominated by Kamaz. Eduard Nikolaev won the fourth stage, followed by Andrey Karginov, with Airat Mardeev finishing third. Mardeev still heads the timing sheets in the category, with Nikolaev and Karginov second and third.
Rafal Sonic leads Ignacio Casale at the head of the timing sheets in the quad category
Rafal Sonic took stage win in the Quad category, and this sees him continue his lead at the top of the timing sheets ahead of Ignacio Casale.
The Dakar contingent will now head from Copiapo to Antofagasta for the fifth stage of the rally.
Photo credit: Shakedown Team