Coronavirus impact: MG launches the 'My MG App'
MG Motor India has launched the 'MY MG APP' that allows the customers to access sales and service facilities of the company without leaving the comfort of their homes. The app brings all the services to a customer's fingertips, like booking an MG car, getting service reminders, roadside assistance and vehicle health status.
Customers can also track their car from production to final delivery. The app also gives information about the warranty coverage and a manual that explains all the features of the product. This will certainly help in strengthening the social distancing initiative to curb the spread of COVID-19.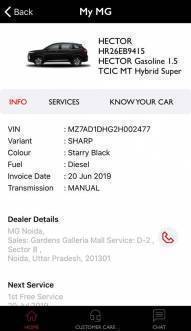 Customers have to download the app and sign up using their mobile number and verification is done by the OTP function. The app uploads all the information about the owner and the MG product in its database by using the mobile number.

The app also offers quite some features regarding the service of the vehicle. It develops a cost estimate and shows other features like pick and drop option, live update of the service progress, generates e-invoices and also lets the customer connect with the advisor. The app generates a complete report which includes previous service history, total expense, list of new parts added and it maintains a reminder for the next service as well.

Customers can share their experiences after the service as feedback on the app itself. It also connects the customer to the closest MG outlet and helps use the roadside assistance for help. The app also lets the customer store all the legal documents in digital form, this includes the driver's licence, insurance papers, registration, PAN card and pollution certificate. The MG Pulse Hub feature also allows the customer to contact the dealership via mail, call or messages anytime.