Citroen C5 X estate unveiled, will be company's flagship
Citroën has a new flagship, and is expectedly unconventional. Called the C5 X, it's a high-riding estate crossover of sorts, or as Citroën explains it, "a unique combination of the elegance of a saloon, the dynamism of a station wagon, and the elevated stance of an SUV". Whilst not breaking new ground with its choice of pure petrol engine or 1.6-litre plug-in hybrid (225PS) powertrain which can traverse up to 50km on electric power alone, the Citroën C5 X debuts an all-new active suspension, Citroën Advanced Comfort active, that's said to further advance the 'magic carpet ride' feel that's been the hallmark of Citroën. Also debuted are an extended head-up display, a large 12-inch touchscreen with a new infotainment interface. 
The Citroën C5 X uses the manufacturer's new V-shaped all-LED light signature to great effect, allowing the scalloped hood to lead into muscular fenders and exaggerated wheel arches with cladding, with the dropping roofline helping to mask the C5 X's substantial 4,805mm overall length, and giving it a near SUV-coupe profile. Its 2,785mm long wheelbase is quite comparable to 7-seater SUVs as well, though seating is for five, while Citroën claim enhanced ground clearance being a major contributor to its overall stance, even though it marks a low-to-the-ground 1,485mm in height. The advantage of the long wheelbase shows through in what Citroën claim will be outstanding space in the second row, and a 545-litre boot capacity, expandable up to 1,640-litres.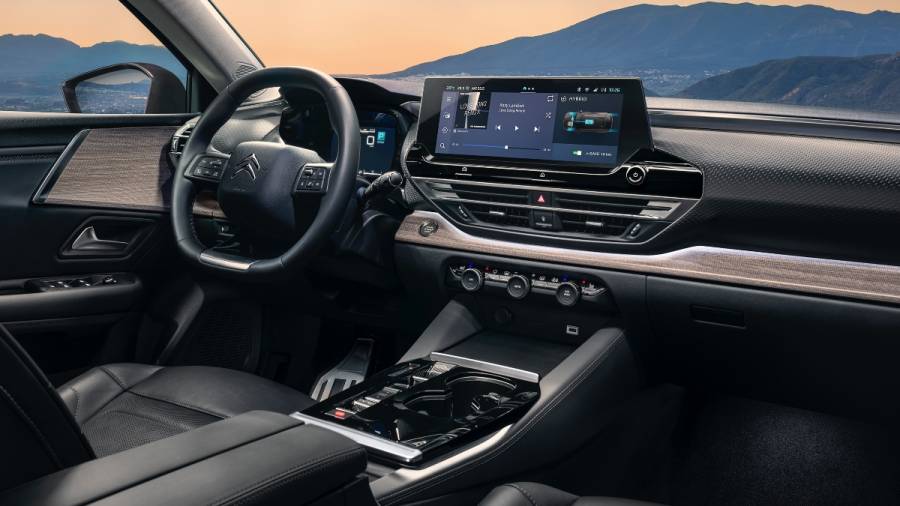 The dashboard is laid out in an uncluttered fashion, with a large central 12-inch touchscreen showing off Citroën's new infotainment interface, meant to resemble a tablet's interface, while still including physical controls for pertinent functions and wireless smartphone connectivity. A new head-up display brings a full-scale, colour display projected onto the windscreen, as first seen on the Citroën 19_19 concept. A big talking point are the Advanced Comfort seats, made of high-density layers of thickened and structured foam, which should work in conjunction with the new Citroën Advanced Comfort active suspension (standard on plug-in hybrid models), an advanced active version of the Progressive Hydraulic Cushions suspension system as fitted to the Citroën C5 Aircross launched in India.
Citroën claim the suspension is allowed to slacken off even more, for even greater bump absorption and comfort as the system fitted in other cars. The cabin should feel light and airy, given the panoramic sunroof and large glasshouse all around. The Citroën C5 X is expected in international showrooms early next year, and will replace the Citroën Spacetourer XL as the flagship of the range.