Chhattisgarh to ban commercial vehicles over 10-12 years old
The state of Chhattisgarh has decided to impose a ban on commercial vehicles like buses older than 12 years and trucks and autorickshaws older than 10 years. Vehicles coming from other states that are more than eight years old will also be facing a ban.
Chhattisgarh chief minister Raman Singh said, "Buses older than 12 years, trucks and autorickshaws older than 10 years shouldn't be given permits from now on, and the owners will be given a time limit of one year to buy new vehicles for registration. E-rickshaws will be promoted with financial assistance."
The chief minister also announced the shutdown of industrial units that are constantly contributing towards pollution. He further stated the industrial units would be monitored online and in case of violating the guidelines twice a month, it should result in immediate closure of that particular industrial unit.
According to a recent World Health Organization (WHO) report, Chhattisgarh's capital Raipur has been declared as the seventh most polluted city in the world. The chief minister held a meeting with the Chhattisgarh Environment Conservation Board (CECB) chairperson Aman Kumar Singh who stated five reasons for the increasing pollution issue, namely industrial effluents, vehicle's pollution, construction activities, urban solid material, and domestic and agricultural waste pollution.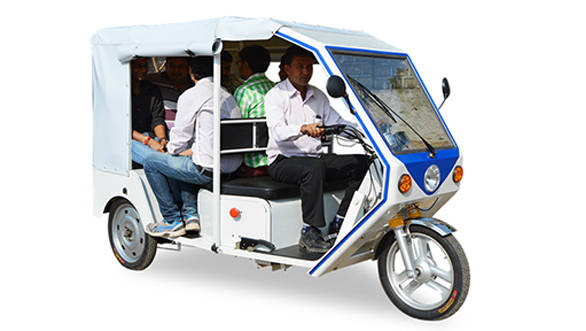 The aftermath of the meeting lead to a directive by Raman Singh to promote e-rickshaws in the state. Singh has also announced to plant 23.40 lakh saplings during this monsoon in state capital and Naya Raipur.