BSVI compliant winter-grade diesel launched in India by Indian Oil
If you've travelled to the northernmost parts of India like Ladakh, Kaza and Kargil, especially during the winters, there are chances that you have experienced fuel freezing due to the substantial drop in the temperatures. This issue will soon be solved as the Indian Oil Corporation Ltd (IOC) has introduced winter-grade diesel in the UT of Ladakh. The launch of this fuel, that also complies with BSVI emission norms, was done by the Union Home Minister Amit Shah. The winter-grade diesel has been produced at the Panipat Refinery of IOCL. The first outlets to receive the winter-grade fuel will be IOCL's highest altitude outlets in Leh. In addition to supplies from Panipat, IOCL also plans to source the fuel from Jalandhar in Punjab.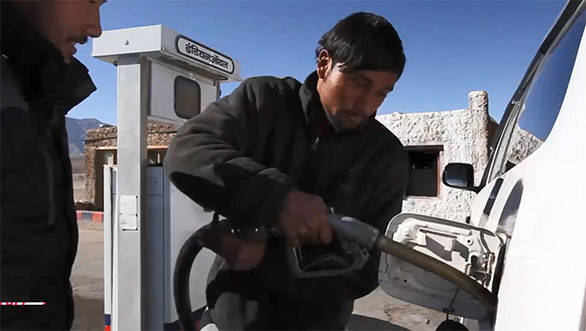 The official statement mentions, "Motorists in high-altitude sectors like Ladakh, Kargil, Kaza and Kyelang face the problem of freezing of diesel in their vehicles when winter temperatures drop to as low as 30-degree Celsius. Indian Oil has come up with an innovative solution to this problem by introducing a special winter-grade diesel with a low pour point of 33-degree Celsius, which does not lose its fluidity function even in extreme winter conditions."
"Speaking on the occasion, Hon'ble Home Minister Amit Shah congratulated the people of Ladakh for getting their long-pending demand fulfilled by getting Union Territory status for Ladakh. The new status will accelerate the pace of holistic development of the region and bring prosperity to the people at par with the rest of India," as mentioned in the statement.
"Home Minister said that the government of India has initiated a number of development projects for the UT of Ladakh in the areas of power, solar energy, education and tourism with an estimated investment of Rs. 50,000 crore. He further said that keeping in view the special development requirement of the region, the government of India has made a provision that the budget allocation for the UT of Ladakh will remain non-lapsable so as to enable the local administration to make full use of these funds as per their development needs," mentions the statement.
An official told ETAuto, the state-run IOCL has developed the winter-grade diesel after receiving feedback from the customers living in these regions. The changes that have been done include component stream identification. blend study, tank preparation, tweaking of the hardware, quality adjustment, flushing of the associated infrastructure, certification of the desired product and also immediate supply to attend the issue and come up with a foolproof solution.