BMW unveils the Concept 90 at the Concorso d'Eleganza Villa d'Este 2013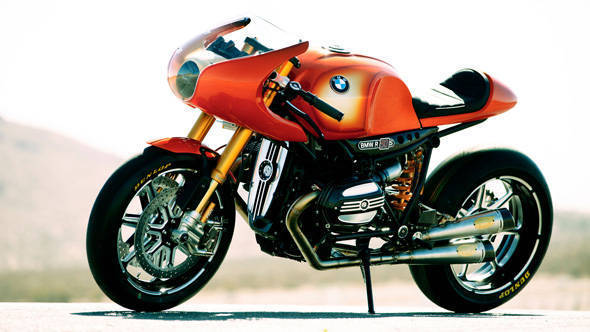 BMW celebrates its 90th birthday this year and at the Concorso d'Eleganza at Villa d'Este, they celebrated this milestone by introducing the Concept 90 which was designed in collaboration with Roland Sands Design (RSD). The design of the motorcycle draws styling cues from the forty year old R90S.
Introduced in 1973 and designed by Hans Muth, the R90S was a period icon and was one of the first production motorcycles to feature an aerodynamic front faring as standard. At that time it was also one of the fastest production motorcycles in the world capable of over 200kmph. It also tasted race success with Reg Pridmore winning the first AMA Superbike championship.
Roland Sands is also an ex-racer but is better known for his participation in the Discovery Channel's Biker Build-Off show. He has always been known for his radical combinations of modern components and traditional designs and the Concept 90 is no different. It's a thoroughly modern sports bike with Ohlins suspension front and back and low mounted clip-on bars. A lot of attention has gone into the details too with engine heads, top triple clamps and rims all custom RSD bits and made specifically for the concept. The orange paint scheme too is in tribute to the Daytona orange colour of the original.
While the old bike was a sports tourer the fact that this motorcycle is shod with Dunlop racing slicks indicates that the Concept 90 will be quite at home on the track. This gorgeous running concept is a fitting tribute to the R90S and would be an excellent partner to the HP2 in the BMW-Motorrad line up. Please BMW, put this one into production.