BMW 4 Series Coupe to go on sale in October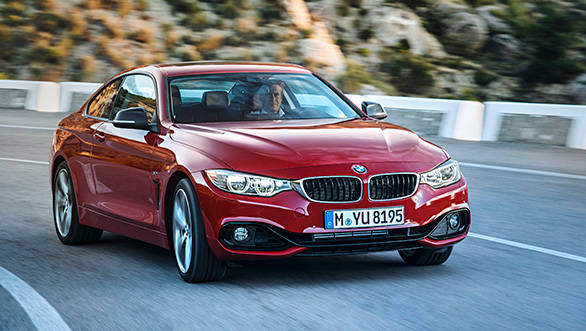 2014 BMW 4 Series
BMW has launched the 4 Series to slot in above its 3 Series sports sedan. The 4 Series will be made available in 428i and 435i models; also an option is the xDrive all-wheel drive. The power rigs from the 3 Series are retained. The 428i is fuelled by a 2.0-litre turbocharged inline four-cylinder engine outputting 240PS and 346Nm of torque, while the 435i gets BMW's turbocharged 3.0-litre six-cylinder churning out 300PS and 405Nm.
Both six-speed manual and eight-speed automatic transmissions are available. The 428i xDrive, which does 100Kmph in 5.7 seconds, can only be had with the automatic transmission, however. The 435i pulls off the 100Kmph in 5.3 seconds on manual transmission and 5 seconds flat when mated to the 8-speed automatic.
When compared to the 3 Series, the 4 Coupe is about 2.5mm longer, while the 2809mm wheelbase remains the same. It is 15.2mm wider, and comes with a roofline which is 68.5mm closer to the ground. The sleek look comes from BMW combining the new design language from the 3 Series with a silhouette that's similar to the elder sibling, the 6 Series.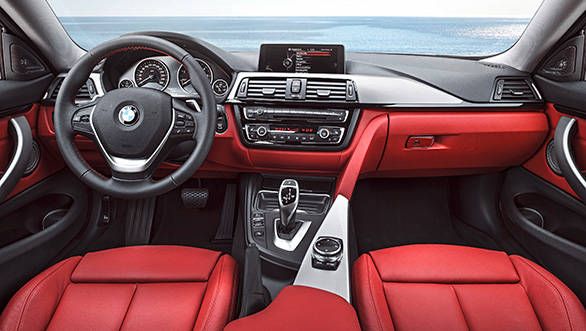 2014 BMW 4 Series interiors
As was the case with the 3 Series, BMW will launch the 4 Series Coupe in three different variants – Luxury, Sport and M Sport. The Luxury trim centres on features and swank appearance. The Sport and M Sport trims will offer the most driver-centric equipment and a sportier exterior. 18 and 19-inch wheels are available on all models. M Sport gets a lot of mods, including better suspension tuning and improved brakes to make for a more involving drive.
The interiors are not that different from the 3 Series. The 4 Series combines technology and comforts, and offers it in a variety of shades.
2014 BMW 4 Series
The new 4 Series goes on sale in October. BMW has announced that pricing for the 428i Coupe will start at USD 41,425, while the 428i with xDrive is $ 46,925. The 435i will be priced at $ 43,425 and the top-end 435i with xDrive will cost $ 48,925.