Bajaj V15 ride review: Six things you absolutely must consider
The Bajaj V15 is here. It is on sale at Rs 62,000 (ex-Delhi) including the confusing mandatory accessories and Bajaj Auto have picked up 3,000 bookings. Deliveries start on March 23, 2016. The V15, as you know, is famous already for two things. The first is masterful marketing. Bajaj procured scrap from the INS Vikrant and that steel is part of the metal that forms its tank. Add the commemorative plaque on fuel tank cap and it's a powerful story that any warm-blooded Indian will feel twanging at his or her heartstrings. The other thing is that Bajaj V15 defies classification. It's the onion ice cream of desserts. It's arguably an ice cream but not everyone is going to like the flavour. Here are three good things and three things that'll challenge you about the Bajaj V15.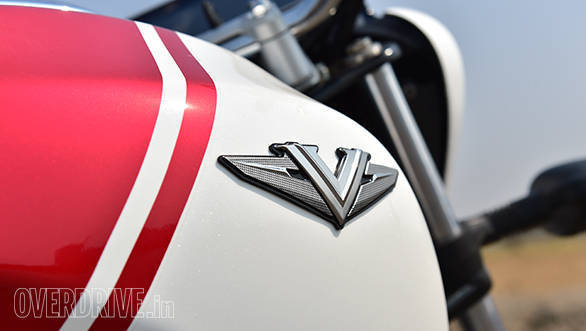 Like: build quality and finish
Bajaj's bike tend to age a bit more rapidly than their peers, especially in hard use. The V15 feels like it'll defy that trend.
It's first asset is its simplicity - to the point where it's hard to imagine that the RS200 and the V15 come from the same maker. The simplicity means fewer panels, fewer places where two panels meet and consequently a sense of robust, unflappable health.
Like: Some design elements
Leaving aside the mish-mash of lines, colours and finishes in the tail piece, the rest of the motorcycle is surprisingly restrained. This restraint allows the muscular tank to show off its few but strong lines while an equally simple side panel plays second fiddle. Use your thumbs to hide the front fairing and the tail piece and you'll see a rather nice-looking motorcycle. The thing is that it should be fairly easy to chuck the tail piece and the fairing and upgrade the design to something altogether more pleasant. Moto Guzzi makes a V7 and V9. You could have yourself a V15, even.
Like: Commuter class
Bajaj constantly reminded us at the launch and at the first ride that the V15 is a hardcore commuter designer to commute. Yes that's a real thing.
We are used to commuters that offer a fair bit of flexibility. Most 100-110cc bikes, for instance, will handle the odd 90kmph blast down the highway with some complaint and much buzz. We think nothing of it.
Bajaj has, in effect, created a 150cc motorcycle that does exactly that. Don't scoff - there's a method to the madness.
Bringing a larger engine to the table allows Bajaj to play with more torque. Forget the peak torque and don't even bother with the peak power. What the V15's all-new one valve per spark plug single (as in two valve, two plug SOHC) makes is a fat gob of torque from idle. By 60kmph in top gear the engine is already beginning to leave its comfort zone. It'll hit 100kmph - indicated, not tested - but it'll complain as raucously as a much smaller engine.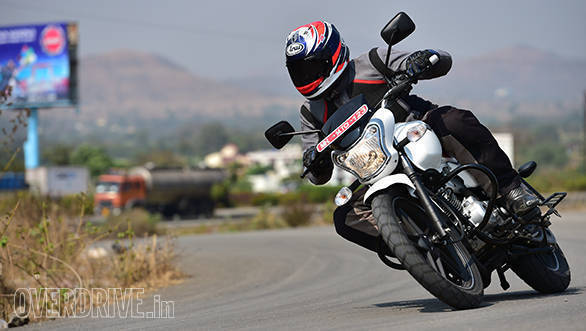 So you quickly start riding the torque rather than the revs. The V15 can be shifted rapidly into top gear and then treated more or less like an automatic scooter. Chugging at along at commuter speeds is peaceful, sounds good and there are almost no vibration related issues to note at all.
The sweet spot of the speed range does seem low and I found myself hunting for a sixth gear down the highway to manage a reasonable speed while not leaving the best part of the Rev band. But in the city, in traffic, especially in small town India, the V15 will be effortless. It's persuasively better at this than most other commuters for sure.
Dislike: High speeds and initial throttle response
As you can tell from the previous point I made, the V15 isn't too happy to handle even short 70-80kmph highway runs. It'll manage but you know it's the disgruntled worker rather than a busy bee. This isn't an issue for hardcore urban commuters at all. But if you've got a highway stretch you've to cover regularly, pay attention to higher speed feel during the test ride.
Also pay attention to the initial throttle response. I'll confirm this at the road test but our test bike consistently jumped forward from low revs. It's a tendency that carbureted bikes don't often display and it makes low speed work hard to do clutch-free.
Dislike: Small bump absorption
While the Bajaj V15 will swallow bigger bumps whole and make light work of really bad roads, it does have a stiff-edged feel over smaller irregularities. Now this isn't severe enough to be a discomfort issue. But perhaps a more supple ride would have given the V15 a more luxurious feel that would have made the experience a lot more special. As is, the V15 is comfortable but I think the ride quality can be improved.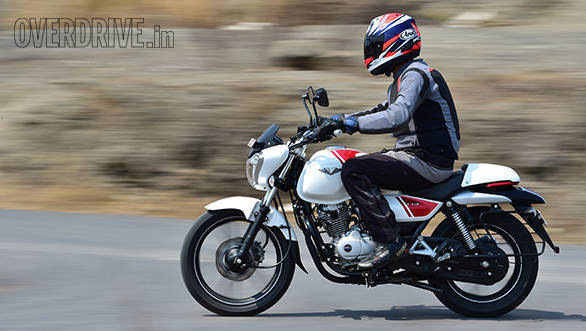 Dislike: Mandatory accessories
This is just asking for trouble. Bajaj list a price for the V15 and then tack on another small price for 'compulsory accessories.' These include a grab rail, the rear seat cowl and a couple of other bits. I have to question the clarity of logic in this policy. As the comments from our previous V15 story already show, the two prices cause confusion and many think the Bajaj dealer is trying to make a little extra money.
I've no problem with Bajaj bundling the bits with the bike. Product packaging is Bajaj's prerogative. I do think however, that a single price - including all those bits if need be - would create far less confusion and apprehension. Since the V15 is anyway hard to classify, a price tag Rs 2,000 higher shouldn't deter the target customers the least bit.
Overall
Bajaj have really pulled a pink polka dotted rabbit out of their hat this time. The V15 has clear strengths that come from its clarity of role and intention. It also had mould-breaking aspects - like the design - that are designed from the start to not fit into the rather boring commuter spectrum.
This is a double-edges sword though. Many will find the V15 hard to understand and accept. They'll struggle with the mental idea of whether they're riding a commuter or a cafe racer or a some combination of those two types of motorcycles. Others will find that the V15 fits then exactly and wonder why no else has made a motorcycle like it before. My advice is to take a test ride and form your own opinion. The V15 fundamentally does all the right things. It brakes well, turns quickly, is comfortable enough, well made, reasonably priced and styled distinctively. But it is onion ice cream and that isn't everyone's idea of desert. If you like the flavour, though, I'm happy  to recommend it.
Read more on the Bajaj V15 on OVERDRIVE
2016 Bajaj V15 launched in India at Rs 62,000
Image gallery: Bajaj V15 first ride
Spec comparison: Honda CB Shine vs Bajaj V vs Discover 150S vs Pulsar AS150
Things you will like about the Bajaj V15 and stuff you won't
Price (Ex-Delhi)
Starts Rs 66,739
Price (Ex-Delhi)
Starts Rs 57,683