Automobile events this week: May 7 - 13
There is so much happening in the world of automobiles. From the Formula 1 Spanish GP to an adventure riding training course to upcoming events later in the calendar, there is much for you to know, see, do. OVERDRIVE helps you stay up to speed with this quick rundown of all things automotive happening from May 7 to 13, 2018:
May 10 to 13: Formula Spanish GP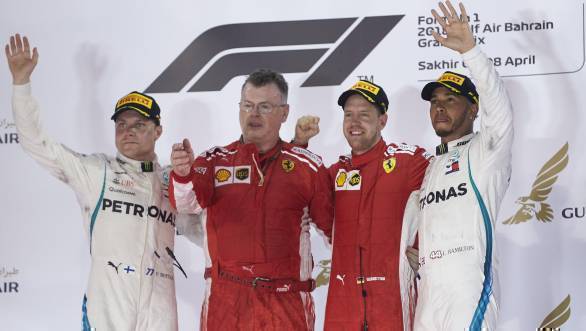 Lewis Hamilton currently leads the championship standings after victory at the Bahrain GP.
Event type: Circuit race
Location: Circuit de Barcelona-Catalunya, Spain
What is it?
Victory at the Azerbaijan Grand Prix gave Lewis Hamilton the lead in the drivers' championship standings. Sebastian Vettel, with victory in the first two races of the season - Australia and Bahrain - however is a mere four points adrift. Whoever finishes ahead at the Spanish GP, might gain an early advantage in the 2018 season - every point counts. The 66 laps at the Circuit de Catalunya, a circuit famous for a mix of high and low speed corners, and high tyre wear, promise to be challenging and exciting!
Can I go?
Yes, if your Espanol (Spanish) is as good as ours and you love the Paella and Sangria as much as we do! But you'll have to hurry since the Spanish GP attracts one of the largest crowds of the season, and the race is this weekend. Get details here.
May 12 -13: Adventure riding training school with Brett Tkacs
Image credit: mototrek.net
Event type: Adventure riding training
Location: Marve road, Malad (W), Mumbai
What is it?
This is a two-day course with the special instructor and YouTuber Brett Tkacs, being hosted by Mumbai-based Top Gun India Riding Academy. The course will comprise basics of adventure riding. And not just Mumbai, the course will also be held in Pune and Bengaluru subsequently. This training should come in handy for the growing number of adventure tourer motorcycle owners in the country to better utilise the capabilities of their machines.
Can I go?
Yes, you can! Registrations are open for the course in Mumbai (May 12-13), Pune (May 15-16), and Bengaluru (May 19-20 and May 21-22). The initial fee was Rs 15,000 per rider, but after April 15, this has risen to Rs 18,000, inclusive of food and beverages for both days. Bring all your necessary safety gear and register here. And if you can't, fret not. We will be there to bring you updates and insights from the event.
Upcoming events:
June 2: TWO / OVERDRIVE track riding school - Level 1
Event type: Track riding training
Location: Kari Motor Speedway, Coimbatore
What is it?
Throttle Wide Open (TWO) is India's first track riding school, where you will learn the art of riding your motorcycle to the limit in a safe, quick, and smart way from motorcycling gurus including Anand Dharmaraj and our editor Shubhabrata Marmar. This Level 1 course teaches you all the basics of riding on a racetrack.
Can I go?
Of course, but you will have to hurry. Registrations are open on the IndiMotard website for only 30 spots in all for the Level 1 Session. The Open Session costs Rs 10,750, while the Level 1 training course will cost Rs 16,000. Bring a motorcycle and an open mind.
Event type: Motorcycle tour
Location: Delhi to Leh and back
What is it?
Traversing 2,400km from Delhi through Chandigarh, Manali, Leh, and Hunder, this is one of the marquee ride events hosted by Royal Enfield. Last year, the participants numbered 61 including six female riders. This time around is the 15th edition of this 18-day tour through some of the most beautiful landscape and treacherous routes that India has to offer.
Can I go?
Yes, you can. If you have the time and the moolah - fees for a single participant are Rs 48,000 and Rs 96,000 for a couple. The same women participants is Rs 42,000 and Rs 84,000, respectively. If you have always wondered and planned this trip to the mountains but never found the right company, then this one is for you. Register here.
Price (Ex-Delhi)
Starts Rs 2,01,000