Audi R8 LMS Cup: Aditya Patel moves into championship lead in Taiwan
The third Round of the Audi R8 LMS Cup was held at the Penbay International Circuit in Taiwan. Audi India driver Aditya Patel had a fine weekend at the three-race round, emerging at the head of the championship standings by the end of it. Patel now leads the title ahead of Thomas Fjordbach and Frankie Cheng.
Aditya Patel (IND) Audi R8 LMS Cup Team at Audi R8 LMS Cup, Penbay International Circuit, Tawain, 3-5 July 2015.
The first race of the weekend saw the Indian tintop racer start sixth on the grid. Moving up to fourth place during the first few laps, Aditya managed to stay there till the chequered flag fell. While it wasn't an ideal result, it gave him valuable championship points. DTM driver Edoardo Mortara won the first race.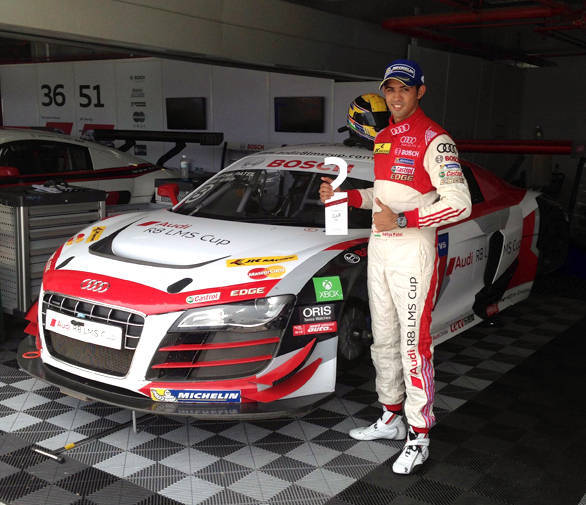 Things got better for him during the second race of the weekend, moving from a fourth-place start to second-place finish, behind Mortara. When Mortara was eventually penalised for an incident, Patel was challenged for the race win by Frankie Cheng, who eventually won the race.
The third race saw Patel start from pole position, but the fact that he started the race on used tyres, unlike competitors who were on fresh tyres, immediately put him at a disadvantage. As the race wore on, Patel, who had already lost the lead after a tussle on lap one, dropped to sixth place. Nonetheless, it was enough to help him retain his lead in the championship.
"It was a tough weekend both in terms of conditions as well as competition. It still feels good to lead the championship after the halfway mark. I did make some wrong decisions in terms of strategy but I guess I won't make the same mistakes again! I now look forward to the second half of the season. I'd like to take the opportunity to thank my sponsors, Audi India, Jk Tyre, Jubilant Motorworks and Oris Watches."
The next race of the Audi R8 LMS Cup will be held in Malaysia on the 4th and 5th of September.
Price (Ex-Delhi)
Starts Rs 2.55 Crore