Asian Karting: Shahan Ali Mohsin wins at Elite Speedway
Reigning Indian National karting champion in the Micro Max category, Shahan Ali Mohsin took a fine win at Round 3 of the Asia Max Karting Championship held at the Elite Speedway in Malaysia.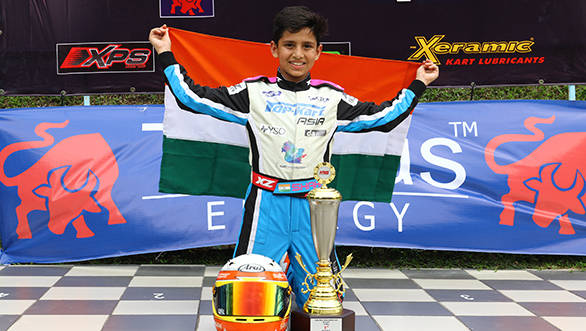 Shahan, driving for Team Top Kart Asia, topped the timing sheets during both practice sessions and was on pole in qualifying too. But the Heats were difficult for the 11 year old karter from Agra. After being squeezed off track in Heat 1, he managed to recover to finish fourth. Unfortunately he retired in Heat 2 after being hit by a competitor, the second time during the weekend when he had to contend with over aggressive rivals.
Things got better after that though. In the pre final race, Shahan made it to third place. And with that, he was all set for a strong performance during the final race.
During the final race, Shahan lost a position initially, but managed to move into the lead of the race by the seventh lap. From thereon it was a tough battle between Shahan and Amer Harris, with the pair exchanging positions all through the race. On the last lap of the race, though Shahan was second, he managed to keep calm and eventually made a move that allowed him to cross the finish line 0.097s ahead of his rival.
The win means that Shahan is currently in the lead of the Asia Max Karting Championship's Micro Max category.