Ashok Leyland Stile unveiled yet again, launch in September
Ashok Leyland has unveiled (yet again) of their own version of the Nissan Evalia, the Stile MPV. While prices will be announced closer to launch in September what we know is that the Stile is the commercial equivalent of the Evalia, aimed at taxi operators and hospitals. The launch date comes from a trustworthy source and the company hasn't announced anything to this effect yet.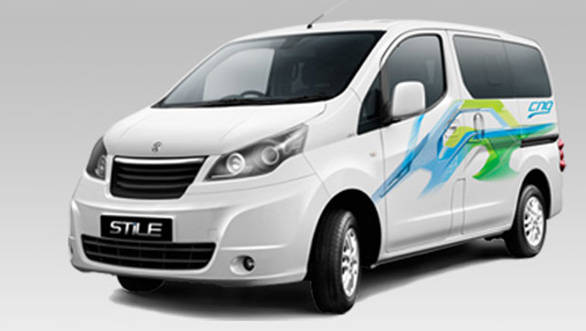 The Ashok Leyland Stile will look identical to the Evalia save for the badge and graphics
Outside, the Stile looks similar to the Evalia. The only differentiating factors are the new grille, graphics and badges. While we aren't sure about the interior configuration, there are rumours suggesting that there may be captain seats in the middle row. Expect a similar seating arrangement in the other variants like the Evalia.
The CNG tank will compromise on the Stile's luggage space
As far as engine options go, Ashok Leyland have two on offer. First is the ubiquitous 1.5-litre k9k Renault engine which should make almost the same power or may be even less than what it makes in the Evalia and the second is a CNG engine. The CNG-equipped Stile will compromise on its boot space. We expect the Stile to be priced lower than the Evalia.
V Sumantran, Vice Chairman, Ashok Leyland and Chairman, Nissan Ashok Leyland Powertrain Ltd commented, "Right from the outset, we were determined not to remain a one product/platform or niche player in the LCV space. Following the successful run of the DOST, we are now delighted to present our brand-new vehicle on an award-winning platform that reflects our continued focus on offering Japanese Technology and Quality at Indian Cost. With the STILE also in our portfolio, we are now better positioned to cater to a wider range of needs, and at the same time, address the growing expectations of the Indian consumer."