APRC 2017: Team MRF claims 1-2 finish at Johor Bahru
Team MRF Skoda took yet another 1-2 finish in the 2017 Asia Pacific Rally Championship (APRC), this time at the International Rally of Johor, held in Johor Bahru, Malaysia. The rally was the third round of the championship, and was won by Norwegian driver Ole Christian Veiby. Second place went to Gaurav Gill, defending APRC champion, who had won the first round of the season, the Rally of New Zealand.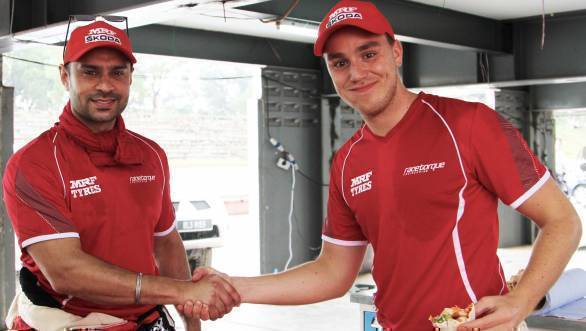 Gaurav Gill congratulates Team MRF Skoda team-mate Ole Christian Veiby on winning the International Rally of Johor
While it was Gill who had started out leading, taking the fastest time in the Shakedown and in the Super Special Stage as well, the Special Stages brought with them a spate of bad luck for Gill. It was Veiby who surged ahead into the lead, while Gill faltered. It began when Gill clipped a tree, "a driver error" as he put it, that led to a bent steering-arm. Then later in the day, Gill suffered an alternator problem that led to the windscreen being fogged. The mishaps led to Gill losing time. It was Veiby who led the day's timing sheets, while Gill had to stay content with third place, behind Jari Ketomaa.
Gill and co-driver Stephane Prevot on their way to victory in every single special stage held on Day 2 of the rally
The second day of rallying saw Gill make up the deficit, winning all six Special Stages on Sunday, making his way past Jari Ketomaa, and finishing 18.8sec ahead of the Finnish driver. However, Veiby was still ahead by four minutes, which meant the was able to win the rally comfortably. Gill had to stay content with second place, while third place in the rally went to Jari Ketomaa.
The fact that Veiby has now won two rallies, this season, with Gill only winning one, means that the Norwegian now leads the championship standings.
"For sure, it was one of my best drives, very fast and precise. I didn't make any mistakes. I was driving at 110 per cent which was what I always wanted do and what all the top drivers do. We had amazing speed, good pace notes and made correct tyre choice. I drove my heart out and pushed the car beyond its limit. But the small mistake I made yesterday cost me the Rally or else, we could have won," said Gill.
"Starting the day, we were down by two minutes and 16 seconds to Jari. I wanted to get as close to OC (Veiby) as possible. I made most use of my experience to go past Jari who is not a slow driver and has WRC experience. Yes, it was a satisfying drive today, but not overall. I am still upset with the silly mistake I made yesterday," said Gill who drew some consolation by topping the FIA Asia Cup category.
Veiby took his second win of the 2017 APRC season, thus consolidating his lead at the head of the championship standings
Veiby was pleased as punch with the win and said: "Today was all about getting through without any trouble. We didn't want to make any stupid mistakes when we were leading by over five minutes. We had some problems with oil leak, but we had it fixed during service and got through the day. I didn't go flat out today and tried to enjoy a bit. After what happened to Gill on the first Stage yesterday, we were leading the whole Rally and it was kind of boring here. In Australia, it was more fun as Gill and I kept pushing each other, changing positions up and down. But a win is a win and my target is to win the championship."
Provisional Classification:
FIA APRC:
1. Ole Christian Veiby / Stig Rune Skjarmoen (Team MRF, Skoda Fabia R5) (3hrs, 02mins, 39.1secs)
2. Gaurav Gill / Stephane Prevot (Team MRF, Skoda Fabia R5) (03:07:20.8)
3. Jari Ketomaa / Ville Mannisenmali (Mpart Sport, Mitsubishi Mirage) (03:07:39.5)
FIA Asia Cup:
1. Gaurav Gill / Stephane Prevot (Team MRF, Skoda Fabia R5) (03:07:20.8)
2. Michael Young / Malcolm Read (Cusco Racing, Subaru Impreza) (03:18:42.9)
3. Yuva Sumiyama / Takahiro Yasui (Cusco Racing, Skoda Fabia R5) (04:10:42.8)