Analysis: Royal Enfield sets up for its big innings
We've watched the rise of Royal Enfield since about 2012 with slack-jawed amazement. In the part of the market it plays in, it has a dominant share. But all the signs point to the fact that Royal Enfield is neither done, nor stationary. It's gathering up its troops, drying the powder, adding guns and getting ready for a big push. A campaign that will not be restricted to India.
That last bit is important. Despite its fame in various markets, Royal Enfield doesn't export much. It sold just over 3 lakh motorcycles in 2014, growing 70 per cent over 2013. RE exported 6,221 of those (in itself a 46 per cent improvement) - 2.1 per cent.
CEO Siddartha Lal says he intends for Royal Enfield to become the world's largest middle weight motorcycle maker. It sounds boastful. But if you look at what RE's been up to in the past few months, a plan emerges.
The hirings
Royal Enfield has made three critical hires recently. In August 2013, Royal Enfield hired Rodney Copes as president of Royal Enfield North America, responsible for the USA and Canada. Given how small the current RE network is and how little they sell there, this may not be of much import. But Copes has been with Harley-Davidson for about two decades and was responsible for four global sales regions and three product categories. Copes is credited with H-D's expansion into emerging markets including their India office.
Pierre Terblanche
November, RE announced that Pierre Terblanche, noted motorcycle designer had also joined. Terblanche is credited with bikes like Ducati's Multistrada and Hypermotard.
Rudratej Singh
Two months on, Eicher got Rudratej Singh in as the new president of the motorcycle company. Before taking over, Rudy, as Singh is popularly known, was with Unilever as VP, South Asia, Home and Personal Care & Foods Marketing Operations. Rudy, to quote Lal, "spearheaded global brands and business for almost two decades across emerging markets."
More capacity
When the company wasn't hiring new people, it was adding resources and assets. As you know Royal Enfield has its original factory at Tiruvottiyur, Chennai and about two years ago, it opened a new plant at Oragadam, near Chennai. In 2015, it expects to make 4.5 lakh units from the two plants. In November 2014, it added to its kitty a 50 acre plot at Vallam Vadakkal, 10km from Oragadam with a view to future expansion. It's also announced that capacity will expand at its current plants to 6 lakh units.
More capability
In February 2015, Royal Enfield announced an investment of Rs 500 crore in various activities. It would set up two technical centres, one in Chennai and a smaller one in Leicestershire, UK. Chennai is to be online in the second quarter of 2016 at its new Old Mahabalipuram Road location while the UK facility is to start operations by the end of this year.
And now comes a dramatic new announcement. Royal Enfield has purchased Harris Performance Products, the UK company.
Harris Performance
Royal Enfield credits Harris Performance, the renowned UK based engineering firm, with being a central to the development of its first ever new frame. This cradle frame underpins the Continental GT. Royal Enfield says it has now purchased everything - intellectual property, know-how, staff, assets - of Harris. RE expects to move all this to the UK Tech Centre when it starts operations later this year and Harris Performance Products will now work only on Royal Enfield's future products.
New platforms
It isn't lost on Lal that the draw of a 50-year old platform modernised endlessly has to have a finite limit. At some point, his ambitions for Royal Enfield will require things that the current single cylinder platform cannot deliver.
Strong rumours now say that RE is developing two new platforms, one of which isn't far from its public debut. Two months ago, news broke that it had registered the name Himalayan in many markets and a motorcycle wearing that name is tipped to be the first all-new Royal Enfield in the company's history.
What is expected is a 410cc single cylinder engine featuring a new design, new gearbox and hence more performance.
The nature of the performance, Lal reveals, will not aim to match or exceed current sports or sports-naked norms. The new REs, officially between 250 and 750cc will offer great performance that sits right with the brand's core values.
To me, that's a 35-38PS peak power output from a not very stressed single. I'd run with short gearing - top speed about 150kmph - but roll-on grunt and instant thrust would identify it as a Royal Enfield. The second platform is rumoured to be a twin - this everyone seems to agree on - with reported displacements ranging between 650 and 750cc.
The full picture
Put all that together and you can see that Royal Enfield is setting up to change dramatically in shape and form. India will continue to provide the lion's chunk of its sales. But this will be under some threat as more and more manufacturers position new products at price, image and performance points against RE's motorcycles. But Copes and Singh, both with international experience suggests that Lal will lead RE's expansion well beyond the Indian borders. If you think about it, the only other Indian company working like that is Bajaj Auto, which currently leads the Indian two-wheeler market when it comes to exports numbers.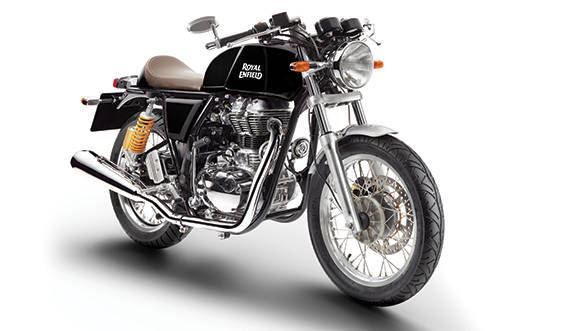 For this expansion, Royal Enfield needs the ability to manufacture larger numbers as well as the capability to develop new motorcycles. This is critical. A few years ago, RE was hamstrung by indifferent sales, lack of funds etc. But now RE has money and intent. As Lal told us at the Continental GT launch, they've a lot of ideas that sit well with the ethos of the company. Products that might naturally have appeared if RE UK had never closed.
An operation that needs to succeed in many countries must manage product attributes and quality to varying levels of expectation and acceptance. That's why people like Singh and Copes will be critical to this and the diversity of experience between Indian R&D and the Harris staff plus new UK Tech Centre staffers will be important.
Will this cause a sea-change next year? No. We know Royal Enfield will probably make 5 or 6 lakh units and the largest chunk will be sold here in India. But over the next few years, the share of exports should grow as the new line of products come online and give the brand a new shine.
More from OVERDRIVE on Royal Enfield:
Royal Enfield acquires UK's Harris Performance
Analysis: Is Royal Enfield now bigger than Harley-Davidson?
,