All-new Kia Picanto unveiled
Kia has unveiled the all-new Picanto compact hatchback ahead of its showcase at the 2017 Geneva Auto Show in March. The 2017 Kia Picanto is now in its third generation and has been designed with inputs from the design centres located in Korea and Germany. The car looks fresh and youthful and Kia says that it expects to attract a lot of new and young customers with its latest offering.
The photos you see here are of the Picanto GT-Line, the sportiest iteration of the Korean manufacturer's line up. The changes include a 15mm extended wheelbase, shorter front and longer rear overhang and bolder body surface lines. Kia has also added new colours to the Picanto's palette. Inside, there is a new floating touchscreen infotainment system, with the cabin retaining a retro-theme with the XL-sized AC vents and circular knobs. The sub-4m (the 3595mm length has been retained from the outgoing car) hatchback could very well be a hit in the Indian market given the excise duty benefits offered here.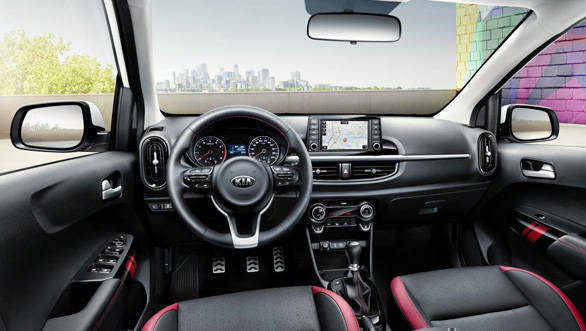 Kia, as we reported earlier, is looking to set shop in India. A wide variety of products are being considered for the Indian market, however, the Picanto makes sense because of its dimensions and uncanny resemblance to the Grand i10's silhouette. The Hyundai though is a tad longer. In worldwide markets, Hyundais have always been positioned above Kia products. However it remains to be seen if Kia can make such attractive, feature rich and technology packed cars to a certain specification (read price) for the Indian market.
Related Stories