2022 TVS iQube launched, prices start from Rs 98,564
On Wednesday, TVS Motor Company launched the 2022 edition of its electric scooter, the TVS iQube which starts at Rs 98,564.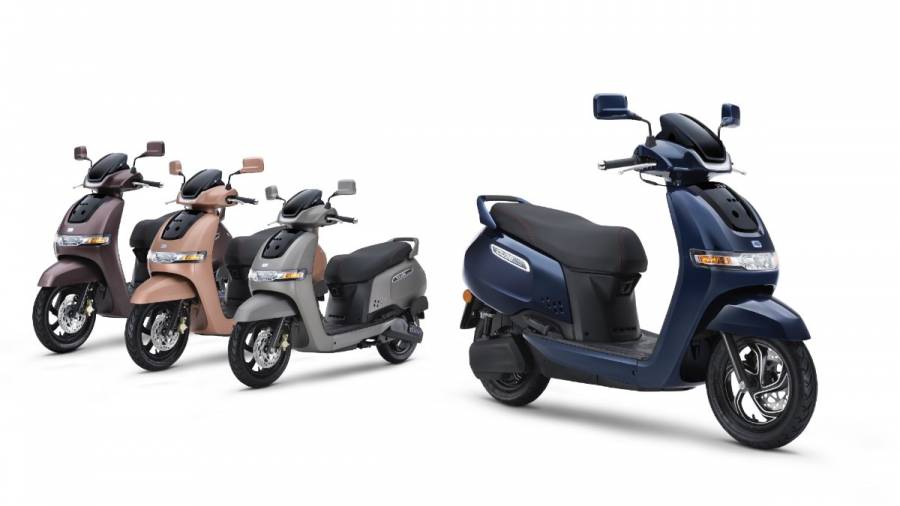 The new TVS iQube is packed with connected features including a 7-inch TFT touchscreen with clean UI, infinite theme customization, voice assist, and TVS iQube Alexa skillset, among others.
The TVS iQube e-scooter is available in three trim levels: TVS iQube, iQube S, and iQube ST. The iQube S is priced at Rs 1,08,690 (on-road, Delhi, including FAME and state subsidy), while the ST version's pricing has yet to be revealed.
TVS originally introduced its e-scooter to the Indian market two years ago, and the company claims to have completed 3 crore km of electric commuting on Indian highways. In the last year, TVS has sold 11,886 iQube devices, with an average monthly volume of 991 units.
TVS will offer its new e-scooters in 11 different colours and with three different charging choices. With the TVS iQube ST and TVS iQube S, plug-and-play carry along off-board chargers with 950W and 650W capacity and charging periods of 3 hours and 4.5 hours are also available. Interestingly, all three new iQube models have a longer range than the previous model, which had a range of 75 km on a single charge.
TVS iQube ST
The top-of-the-line TVS iQube ST is powered by a 5.1 kWh battery pack built by TVS Motor and offers the best-in-class 140 km of on-road range per charge. With a 7-inch TFT touch screen with 5-way joystick interaction, music control, proactive notifications including vehicle health, 4G telematics, and OTA updates, the TVS iQube ST offers intelligent ride connectivity like never before. The scooter comes with an endless number of theme options, voice assistance, and the TVS iQube Alexa skillset. The TVS iQube ST comes in four new ultra-premium colour options, as well as 1.5kW quick charging and 32 litres of under-seat storage for two helmets.
TVS iQube S
The TVS iQube S comes with a 3.4 kWh battery built by TVS Motor that provides a realistic 100 km on-road range per charge. The TVS iQube S features a 7-inch TFT display with an easy 5-way joystick for interaction, music control, theme personalization, and proactive notifications such as vehicle health. The TVS iQube S now comes in four new colour options.
TVS iQube
The base version of the TVS iQube has a 3.4 kWh TVS Motor developed a battery that provides a realistic 100 km on-road range per charge and a 5-inch TFT with turn-by-turn navigation support. There are three colour options for the TVS iQube basic model.
The three variants, TVS iQube and TVS iQube S will be available at attractive price points of Rs 98,564 and Rs 1.08 lakh respectively. TVS iQube ST is available for pre-booking on our websites.
Price (Ex-Delhi)
Starts Rs 98,564