2020 Mercedes-AMG GT 4-door coupe to be showcased at 2020 Auto Expo
Mercedes-AMG might debut its four-door sports car at 2020 Auto Expo in India. This coupe gets a front-mounted engine and an all-wheel drive along with a lightweight design made with aluminium and carbon fibre, taking inspiration from the SLS. Talking about the aerodynamics, the car comes with a multi-stage extendable rear spoiler which improves the overall stability and performance at high speeds.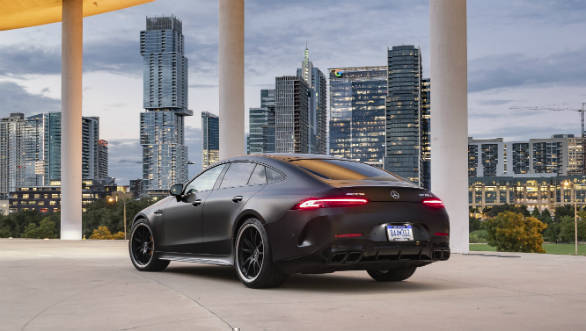 The performance of this car will be its selling point in India. There will be two engine options with 6-cylinder and 8-cylinder. The GT 63 S 4MATIC+ variant will produce 639PS of power along with 900Nm of torque at 4,500rpm. The car will get from 0-100kmph in just 3.2s, as claimed by the company, which is very impressive for a four-door sports car. The car weighs just over two tonnes and still manages to attain a top speed of 315kmph. There are two other engine options as well, the GT 63 4MATIC+ and the GT 53 4MATIC+. The GT 63 will produce 585PS and 800Nm and the GT 53 will produce 435PS and 520Nm. It is still unclear as to which of these versions will make it to India, but the V8 ones seem most likely.
The sports car will get a rear-axle limited-slip differential as standard. This will improve the traction at corners, and also stabilises the vehicle at high speeds. The car is also loaded with Intelligent drive functions like partially automated driving with drive pilot, which will support the driver for routine tasks. The price of the GT coupe is expected to start from Rs 1.3 crore onwards in India. It will compete with the BMW M8 Gran Coupe, also expected to debut in India this year.