2020 Kia Telluride SUV prototype shown at New York Fashion Week
In a surprising addition to this year's New York Fashion Week, Kia Motors has shown a near-production version of its upcoming full-size SUV for the US market, the Kia Telluride. This comes after a concept version of the three-row SUV was first shown at the 2016 Detroit Motor Show.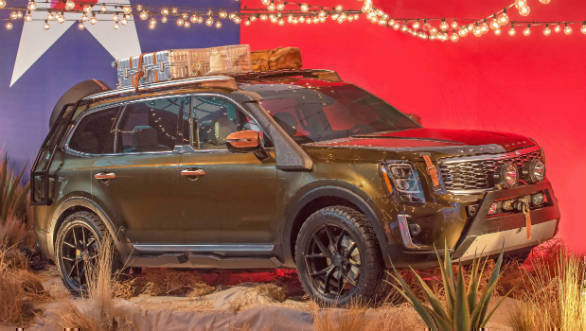 The Telluride gets a boxy design theme throughout with smooth curves softening the look. The front is dominated by the massive chrome Kia family grille with the tall headlamps adding to its distinctly American styling influence. The sides are relatively featureless and don't do much to hide the visual bulk of the SUV. The rear stands out with the unique, inverted L-shaped LED taillamps, giving it a distinct look. The off-roading kit seen here like the floodlights, bull bar, snorkel and ladder are unlikely to be standard equipment when the car launches in 2020, being added more for visual effect than anything else.
The interior is also the most opulent of any Kia model, apart from the K900 sedan from which it draws obvious influences. There are no details available yet on powertrain option but the Stinger GT's 3.3-litre twin-turbo V6 with 365PS and 510Nm seems like an obvious choice. A hybrid version and a V8 version powered by the Genesis G90's 5.0-litre 420PS motor could also be made available. Four-wheel drive and an eight-speed automatic should also be available.
The Telluride will be of ladder-frame construction and compete with full-size SUVs in the US like the Ford Expedition and Chevrolet Suburban. This is a big segment in the US car industry dominated mostly by American and Japanese manufacturers. Consequently, it makes sense for Kia to expand into this segment, bringing with it the attributes of lower entry price, long warranty periods and good quality and design. These traits have made Kia's cars attractive to buyers of its smaller SUVs like the Sorento and the company will be hoping to repeat its success here.
The Kia Telluride is highly unlikely to make it to India, where the company is focusing on cars like the SP concept to give it a strong footing.
Related Stories