2019 Rally of Morocco: Johnny Aubert takes Sherco TVS to P4 in Stage 3
The final leg of the Super Marathon Stage at the 2019 Rally of Morocco concluded, with riders having covered a distance of approximately 540km. The route took riders through rocky terrain and also threw navigational challenges their way.
Johnny Aubert ended Stage 3 of the 2019 Rally of Morocco in fourth position
At the end of the Stage, Sherco TVS Rally Factory Team's Johnny Aubert ended fourth, while his team-mate Michael Metge took ninth position in the stage. Lorenzo Santolino was twelfth in the FIM Motorcycle category.
Speaking of his strong performance Aubert said, "I am happy to end the marathon stage on a good note. The first half of the stage was little difficult due to a rocky terrain but the rest of the route was smooth which helped us climb rankings in the race. I am grateful to the team for developing the bike as per the need of the track and my confidence with handling the bike is increasing along with each stage."
Meanwhile, David Casteu, team manager, Sherco TVS Rally Factory team said, "We are thrilled to finish the marathon stage with good rankings. Johnny is riding remarkably well in the Rally, with Michael and Lorenzo working together to give a strong finish to the team. Our technical team is giving constant support to our racers without taking rest for a single day and I can't thank them more."
After three stages of rallying, Paulo Goncalves is ranked 16th overall in the rankings
The consistent performance also continued for the Hero MotoSport Team Rally outfit. Joaquim 'JRod' Rodrigues finished the stage in 21st position, which puts him 17th overall after three stages. Paulo Goncalves ended the stage 25th, which moves him to 16th overall. While CS Santosh ended the stage 26th, which also put him 26th in the overall rankings.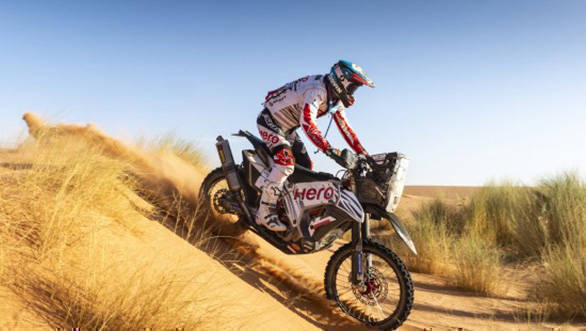 CS Santosh is ranked 26th overall after three stages of the 2019 Rally of Morocco
C S Santosh said, "It was a really long and exhausting day with over 500kms done in the heat and dust. There were fast tracks in the first half and there were also some parts with really tricky navigation, especially in the river beds, where I got lost a couple of times and lost a fair bit of time. Really happy to see the back of this long, exhausting stage and now we rest to recover for the next stage."
The penultimate stage of the 2019 Rally Du Maroc will be held over 408 km, with riders having to navigate more dunes. It will be the most critical stage in terms of final standings in the rally.