2019 MRF National Racing Championship: Volkswagen Motorsport to compete in ITC category as a factory team
Furthering its involvement in the MRF MMSC FMSCI Indian National Car Racing Championship 2019, Volkswagen Motorsport recently announced that it will compete in the Indian Touring Championship (ITC) Category as a factory team. The factory cars The three race cars will be piloted by Karthik Tharani, Ishaan Dodhiwala and Dhruv Mohite.
Volkswagen Motorsport India enters to MRF MMSC FMSCI ITC Category as a factory team for the first time
The outfit says it is important for them to participate in this class because it gives their former one-make series winners a platform to further their motorsport career. All the three drivers for 2019 have been former winners of Volkswagen Motorsport series'.
They'll be driving the Volkswagen Race Vento with its 1.8-litre TSI engine mated to a six-speed sequential gearbox, putting out 218PS and 350 Nm.
Speaking on this development, Sirish Vissa, head of Volkswagen Motorsport India said, "Over the last ten years, we have been strengthening our presence in Motorsport in India. Volkswagen is committed towards the cause and I am proud to announce our entry into India's premier racing category with our very own factory team. We started developing our cars last year by participating in the Turbo class. But with the integration of the category into ITC, we are extremely happy to participate in a class that is at the pinnacle of racing in India." He added, "All three drivers who represent our factory team are extremely talented and have proven their mettle through our one make series in the past. By building proper race cars for the drivers, we are also providing them an option to develop their career further."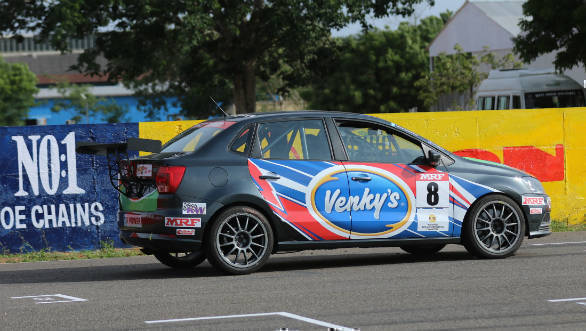 Pre - Season testing with Volkswagen Cup Car
On a related note, the first round of the 2019 Ameo class kicks off this weekend at the Kari Motor Speedway, near Coimbatore. There will be 18 drivers on the grid including nine new drivers and nine from the previous seasons.
The drivers will get their first timed run behind the wheel on Friday, June 21, in the two free practice sessions. They will then head into qualifying on Saturday June 22, followed by three races over the June 22-23 weekend.
Price (Ex-Delhi)
Starts Rs 5.96 Lakhs