2019 LA Auto Show: Elon Musk shows his newest creation, the Tesla Cybertruck
Tesla founder, Elon Musk, today took the wraps off one of his longest anticipated models, the Tesla Cybertruck. A high-end electric pick-up has been in the works at Tesla since 2013, but buyers can now expect deliveries by late 2021. The Cybertruck comes with a host of innovations, and pack sport-car performance in a rugged package.
The Tesla is similar dimensionally to the best-selling Ford F-150. But its EV architecture has helped the Cybertruck pull off this very futuristic, extreme wedged look. Other innovations are the body-shell made from 30x cold-rolled stainless steel, which is resistant to dents, damage and long-term corrosion. Also seen here is the  Tesla Armor glass, which uses polymer-layered composites to prevent damage.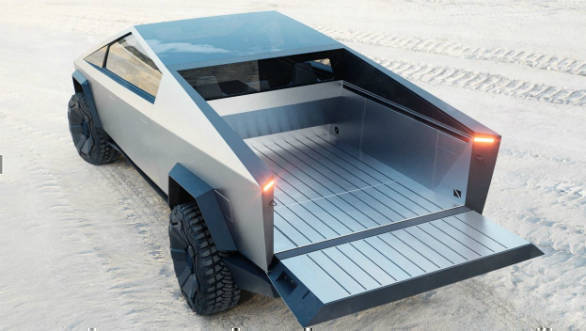 There's space for six inside, in a two-row layout, with the now-signature portrait orientation touchscreen being the dominant feature, larger at 17 inches. Tesla claims that the rear storage space will accommodate over 2,800 litres in its load bay, the Cybertruck also has a 35-degree approach and 28-degree departure angle. Air suspension is standard, which can raise ground clearance to 400mm. Autopilot is standard but full assistance systems can be specified as an option.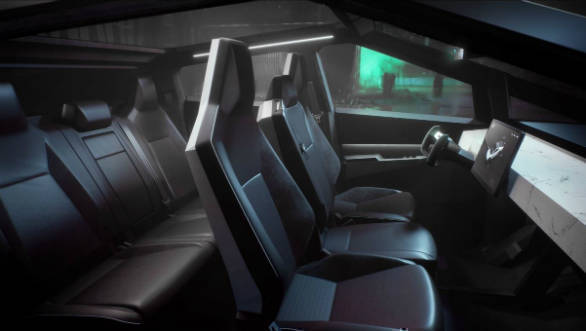 Three versions of the Tesla Cyber truck will be available. The base version is the single motor RWD. This has over 400 km of range, can tow over 3.4 tons and get from 0 to 96 kmph in 6.5s and a 177 kmph topspeed. The  Dual Motor AWD can tow over 4.5 tons, get from 0 to 96 kmph in around 4.5s and have a range more than 482 km. The top-spec Tri Motor AWD has a supercar-beating 0 to 96 kmph time of under 2.9s, although production will only begin late 2022. This also has a range of over 800 km and a 210 kmph top-speed. The tow-rating is a segment-leading 6.3 tons.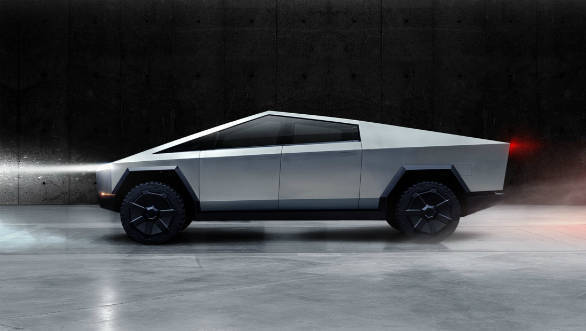 Prices for the Cybertruck will start at $40,000 (Rs 28.7 lakh) and go up to $70,000 (Rs 50.2 lakhs) in the USA. Orders can be placed with a $100 deposit now. The Cybertruck has no real competition as of now but both Ford and GM are readying their own EV pick-up trucks in the US market, where these cars are very popular.
Also Watch,