2019 JK Tyre National Karting Championship: Nirmal Umashankar widens lead in Round 2
The second round of the revamped JK Tyre FMSCI National Karting Championship was held last weekend, June 15-16, at the Meco Kartopia near Bengaluru. Nirmal Umashanker from Chennai, a regular participant in the top-level Euro JK Series dominated proceedings by winning all four races in the category he was competing in.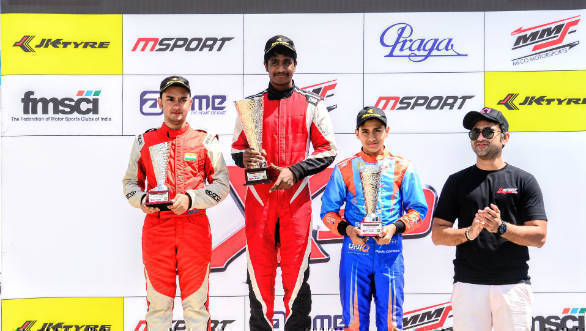 The JK Tyre FMSCI National Karting Championship X-30 Senior category winners
He notched up 40 points in the Senior category, to take his season total to 76 at the end of two rounds. Delhi's Debarun Banerjee was hot on his heels, finishing second in the first two races. But his performance dropped off in the next two rounds, Banerjee could only manage a third and fourth place finish respectively leading him to a 49 point tally. Thanks to his three third-place finishes, Agra's Shahan Ali Mohsin jumped to third from seventh with 32 points, 22 of which came in this round.
The JK Tyre FMSCI National Karting Championship X-30 Junior category winners
In the Junior category, Bangalore's Ruhaan Alva managed a similar jump. He topped this category with 57 points, he collected a total of 34 points in this round itself by winning three races. Following him was Arjun S Nair. He won one race and posted two second places finishes to notch up  27 points and maintain his second spot with a total of 51 points. Mohsin performed well here too. He scored two second and two third place finishes to finish with 38 points in third.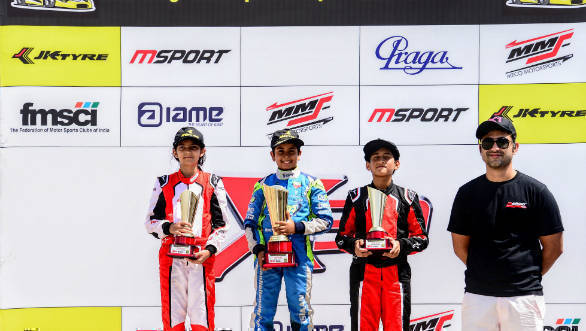 The JK Tyre FMSCI National Karting Championship X-30 Cadet category winners
The youngest racers competed in the cadet category. Here, Bangalore's Ishaan Mahesh won all four rounds to score 40 points and take his tally up to 77 points. Following him were Shriya Lohia and Sai Shiva Makesh Shankara, both from Pune, and with 52 and 45 points respectively