2019 Geneva Motor Show: All electric Kia Imagine crossover showcased
The all-electric concept Imagine by Kia broke cover at the 2019 Geneva Motor Show. Imagine by Kia is the manufacturer's first fully electric vehicle which is likely to go in production by 2020.
Kia's new concept sports styling and design elements which will be adopted in future Kia models. The Imagine has a single sheet of glass which flows from the bottom of the A-pillar from over the cabin to the end of C-pillar creating a sky-window. Front turn signals are located on the edge of the hood and the LED headlamp units are encircled by 'tiger mask' fascia.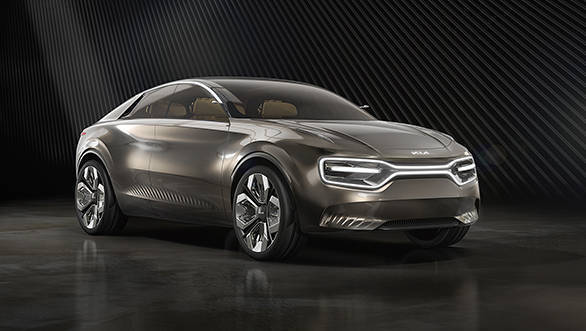 The styling on the EV crossover is a blend of muscular lines with a sleek design and sports 22-inch alloy wheels shod with bespoke Goodyear 255/35 R22 Intelligrip EV concept tyres. However, it is unlikely that the production vehicle will get such large wheels.
One enters the cabin through coach style doors and the interiors sports yoke-style steering wheel. The dashboard has 21 individual screens curved in a synchronised way. "These 21 incredibly thin screens are a humorous and irreverent riposte to the on-going competition between some automotive manufacturers to see who can produce the car with the biggest screen," says Ralph Kluge, Kia Motors Europe's general manager of interior design.
The Imagine by Kia is underpinned by a low-mounted, induction-charged battery pack that powers a compact drivetrain. This also allows better space management inside the cabin.
Kia Motors also debuted the e-Soul for the European market which will be available with a choice of two new generation battery packs - 64 kWh or 39.2 kWh.
Also Read
2019 Geneva Motor Show: Live Updates
Also Watch