2018 Rally of Morocco: KTM rider Toby Price wins the Moto category
The 2018 edition of the Rally of Morocco came to an end today and as has been the case, the fifth and final stage was full of action. After the mega, marathon stage, on the previous day, the final stage was comparatively shorter. That said, the fifth stage was equally challenging and it was all about crossing the final timing beam.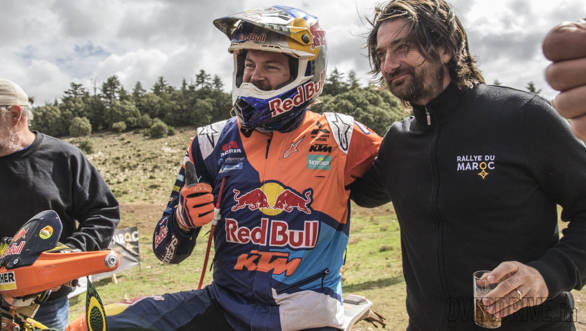 In the Moto category, KTM Factory Rally team's Toby Price emerged victorious. Aboard his KTM 450 Rally, Price looked invincible. At one point, during the Rally, he was under threat from his team-mate Matthias Walkner, but Price kept his cool and rode at a consistent pace to finish at the top spot overall.
The Sherco TVS Rally team put up a strong performance in the initial part of Rally, with Adrien Metge finishing among the top fifteen. Stage 4, however, turned out to be disastrous as Metge crashed. While he suffered minor injuries, his Sherco TVS bike suffered massive damage. The mechanics raced against the clock to prepare the bike for the final stage and Adrien managed to bring it home.
His team-mate, Lorenzo Santolino was also competitive, however, technical issues with his bike meant he'd incur massive time penalties, pushing him down the order.
Abdul Wahid finished second in the Enduro category
All said, it wasn't an entirely bad Rally of Morocco for the team. Abdul Tanveer Wahid, riding in the Enduro class, finished second in category. This was his third international rally, but with a cool temperament, he ensured that he was always in the reckoning to win the Enduro class. In fact, he could have won, had it not been for penalties for missing a few waypoints.
The 2018 Rally of Morocco was a great way to prepare for the upcoming Dakar Rally and it'll be interesting to see how the competitors perform in what is a gruelling rally. Stay tuned for more.
Images by Ishaan Bhataiya