2018 Panafrica Rally: Sherco TVS' Metge brothers occupy top two spots after Stage 2
The Sherco TVS Factory Rally team has continued its strong performance at the 2018 Panafrica Rally. The team's riders, brothers Adrien and Michael Metge, who occupied the top two slots at the head of the timing sheets after the first stage, have continued their strong showing in the second stage as well. However, the order has now flipped.
Michael Metge is currently ranked first after two stages of rallying at the 2018 Panafrica Rally
At the end of the second stage of the rally, that travelled 375km through the Sahara Desert, it was Michael Metge who occupied first place, while Adrien Metge had slipped to P2. The team's third rider, Abdul Wahid Tanveer managed to put in a solid ride, ending stage 2 in P11. He is currently ranked eighth in the overall standings.
Adrien Metge, who was ranked first after the first stage, has now slipped to second in the rankings after the second stage of the 2018 Panafrica Rally
It wasn't an easy outing for the team, whose rider KP Aravind had to retire after a fall on the first stage of the rally, because they felt the pressure of being at the head of the standings. Speaking of how the team had to battle tough conditions, team manager David Casteu said, "The weather has been quite inconsistent of late, with alternate rains and sandstorms, it is difficult to be focussed. Moreover, rains make the sand firm and hence holding on to your speed becomes difficult. Adrien opened the race with a lead, but he slipped on to his timing during the race. It is a delight to see both the Metge brothers competing against each other. Seeing Tanveer giving out a tough competition to some of the seasoned racers was also a true pleasure."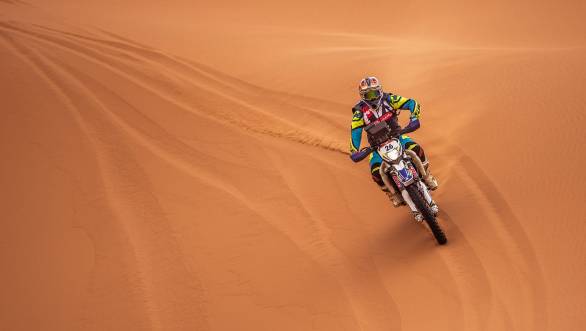 Abdul Wahid Tanveer is currently ranked eighth at the 2018 Panafrica Rally after two stages
Meanwhile, Michael Metge was quite happy with his performance, saying, "There was a lot of pressure on me at the start. After a shaky start yesterday, I am glad that I could pick up the momentum and secured my position at the top despite all the weather and terrain specific challenges. I look forward to finish the Rally with the same momentum under the guidance of Sherco TVS team."
Home hero, for all intents and purposes, Abdul Wahid Tanveer, Racer, TVS Racing said, "It was a difficult stage but I am glad that I could hold on to my position till the end. The bike has been developed perfectly, as the terrain in this part changes quite frequently making manoeuvring quite difficult. The team is doing great and I am happy to contribute to the success of the team."
The only Indian privateer competing in the 2018 Panafrica Rally, Ashish Raorane, is ranked 23rd overall after two stages.