2018 New York Motor Show: Jeep Wrangler based RoadM8 SUV concept showcased
When it comes to showcasing vehicle concepts at motor shows, it is usually done by automobile manufacturers. But at the ongoing 2018 New York Motor Show, there is a slight change to this usual trend. Super8, the largest economy hotel brand, has showcased a Jeep Wrangler based SUV concept called the RoadM8 that is a a one-of-kind vehicle. The reason for the RoadM8 to exist is to highlight the renovations that Super8 has done to its 1,800 hotel rooms across North America with an investment of $100 million.
The Jeep Wrangler RoadM8 Concept SUV is a one-of-a-kind vehicle
Design is a subjective choice and we respect that but painting the macho Jeep Wrangler in shades of red and yellow is not something that we would normally recommend. However, the dual shades on this one goes with the official colours of the hotel brand. Also, not to forget the red wheels. The RoadM8 does not get any special off-road kit but comes with a set of eight auxiliary lights, just in case you fail to notice a big yellow Jeep coming your way.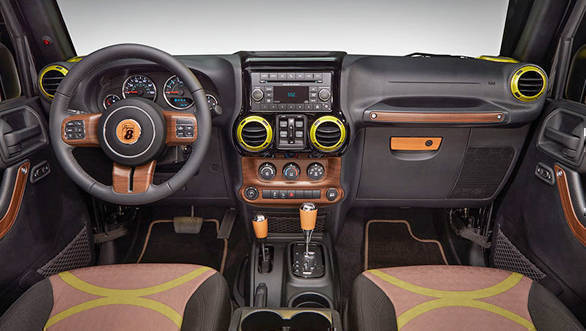 The interior of the Jeep Wrangler RoadM8 takes inspiration from the furnishings of the new Super 8 hotel rooms
The cabin of the RoadM8 comes equipped with the same upholstery as that used in Super 8's new bedspread material. Additionally, the RoadM8 gets wooden accents inspired by the new furnishing of the rooms, headrest mounted tablet screens, WiFi connectivity, USB charging and also a fridge along with a coffee maker. The two essentials that you need on a long trip.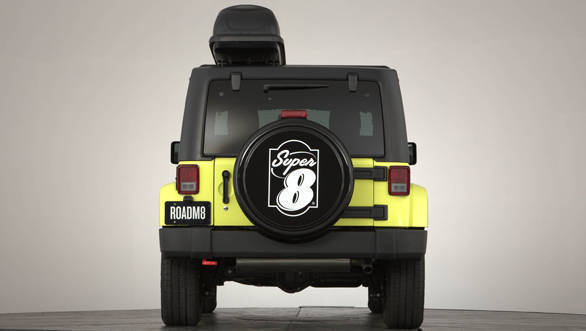 There is more art under the hood with the chain's new-look wall art. The powertrain remains unchanged as this one is purely a cosmetic job. Do we like the Jeep Wrangler based RoadM8 SUV concept? It is always interesting to see such concept pop out and disrupt the usual trend of cliched modifications on the Jeep. Let us know your views in the comments section below.
Price (Ex-Delhi)
Starts Rs 53.9 Lakhs