2018 Maruti Suzuki Desert Storm: Abhishek Mishra extends his lead after SS5
The third leg of the 2018 Maruti Suzuki Desert Storm proved to be the most taxing, on both man and machine as the terrain and the heat affected everyone.
At 200km, SS5 was the longest stage, so far and it was imperative that the participants maintain a steady pace while looking after their car/ bikes.
In the Xtreme category, Abhishek Mishra took top honours, finishing the stage well ahead of the competition. His biggest threat, Suresh Rana, of team Maruti Suzuki Motorsport was hot on his heals for a majority of the stage. However, after the first fuel stop, Rana's Grand Vitara suffered an engine issue, forcing defending champion to retire from the Rally.
At the end SS5, Raj Singh Rathore is now in second position. He looks pretty strong aboard the Isuzu Dmax VCross and could pose a threat to Abhishek Mishra in the final two legs.
In the Moto category, Hero Motorsport's CS Santosh has retired from the Rally after crashing in the final few kilometres before the stage finish. Although he completed the stage, Santosh was complaining of pain in the neck. After a visit to the hospital, Hero Motorsport's has decided to withdraw from the rally, keeping rider safety in mind.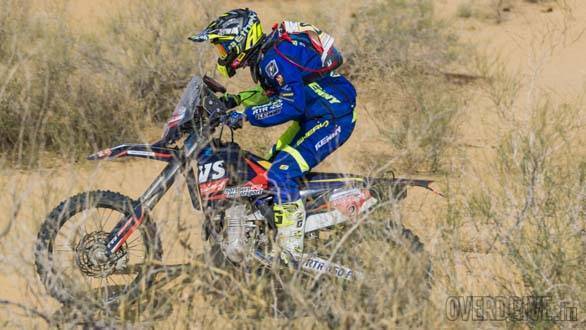 Angata Racing's Aaron Mare leads the Moto Class with TVS Racing's Santolino Lorenzo behind him.
The riders in the Moto category were facing a tough time navigating their way across the desert in Jaisalmer. There were also cases of punctures and broken gearboxes that forced a few riders to retire.
With the tables turning on SS5, the 2018 Maruti Suzuki Desert Storm is turning out to be as challenging as ever. With two legs to go, the winner could be anyone.