2018 JK Tyre FMSCI National Racing Championship: Karthik Tharani and Joseph Matthew deliver strong performances on Day 2 of Round 1
Today, July 7, saw the 21st edition of the JK-Tyre FMSCI National Racing Championship start in earnest. The day started with the qualifying sessions, in which established names continued their good run from last year. The races were held later in the day and most events witnessed good competition among rivals.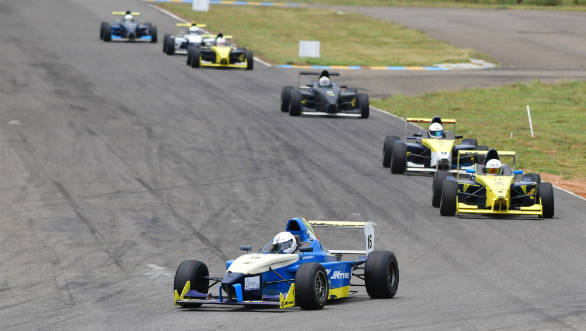 Kartik Tharani won the first race of the Euro JK 18 Series at the first round of the 2018 JK Tyre National Racing Championship at Kari Motor Speedway in Coimbatore
Karthik Tharani won the first race in the Euro JK 18 category, winning the 15-lap event after pole-sitter Nayan Chatterjee suffered issues during the race. Nirmal Uma Shankar (Chennai) who had started third and Manav Sharma (Faridabad) took the other two places on the podium. The second Euro JK 18 race scheduled for the day had to be postponed to Day 3 after an unknown technical glitch came to light after the cars had been out on the formation lap.
File photo of Joseph Matthew breezing his way to victory in the JK Tyre - Suzuki Cup in Round 2 of the JK Tyre FMSCI National Racing Championship at Coimbatore in 2017
The LGB Formula 4 class was arguably the most competitive with cars constantly trading places in the top part of the track. Chittesh Mandody started on pole but an issue with his car forced him down the order. Vishnu Prasad (MSport) eventually won but not without Sandeep Kumar (Dark Don) and Raghul Rangasamy, also of MSport, breathing down his neck.
It was a bit different in the two-wheeler races, Joseph Matthew was well ahead of the rest of the grid in the Gixxer Cup races throughout the day. He was over 3 seconds faster than second placed Malsawmdawngliana. Bengaluru's Syed Muzamil Ali was a further 3 seconds behind.
In the Red Bull Road to Rookies event held alongside the Gixxer Cup, all the top three were from the North East of the country where some very fast racers come from. Zothanmawia and Andy Lalhmangaihsang took the first two places. Jerome Vanlalrengpuia from Mizoram finished third.
Team Ahura created history by being the first all women's racing team of India in the 21st JK Tyre National Racing Championship
Five out of the six entrants from the all-women team from Ahura Racing completed the LGB Formula 4 race. Coimbatore's Megaa KS was the quickest among them.
Price (Ex-Delhi)
Starts Rs 1,11,871