2017 VW Ameo Cup Rd 4: Saurav Bandyopadhyay wins first race of the weekend
Round 4 of the Volkswagen Ameo Cup 2017  has so far been dominated by an in-form Saurav Bandyopadhyay from Mumbai. Saurav had been on the top of the timing sheets during the Free Practice and Qualifying sessions on Friday. He validated his lead with a win in Saturday's race at the Madras Motor Race Track in Chennai. Also on the podium was guest racer Anning Sun from China, followed by A Sandeep Kumar in third place.
The first race of the weekend - Race 8 in the series - on Saturday proved exciting as the top eight finishers were only separated by a second. As the lights went off Saurav got a perfect launch and maintained his lead going into the first corner. Anning, Sandeep and Donovan Vaz got a good start as well and retained their positions into the first corner. Aditya Pawar and Jeet Jhabakh made contact with each other as they entered the second corner. The incident was enough to retire both of them from the race and bring out the Safety Car.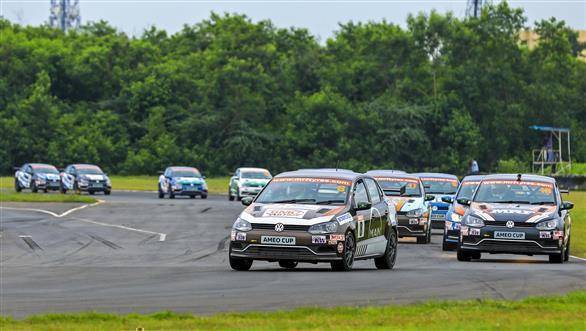 Saurav Bandyopadhyay leads the race on Saturday.
However, title favourite Karminder Pal Singh did not have a great start to the weekend having qualified in the eighth place. He climbed up to fifth position but later dropped down to seventh in the second last lap. Rashad Khan and Siddharth Kotecha who had started eleventh and twelfth got past Karminder to take fifth and sixth positions respectively.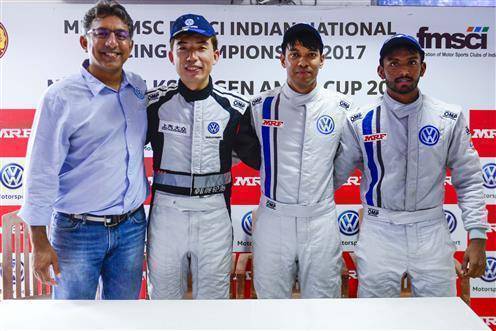 (From left) Sirish Vissa of VS Motorsport India, Anning Sun, Saurav Bandyppadhyay and A Sandeep Kumar.
An excited Saurav said that after much data analysis and time on the simulator, he managed his second win of the season, and called it his best race so far. Saurav, having gained maximum points in Race 8, has moved up a position in the battle for the Ameo Cup 2017 title. Karminder, despite a mediocre performance, has a strong 92-point lead and continues to be the title favourite. The last two races of the 2017 season will be held on Sunday at the MMRT.
Price (Ex-Delhi)
Starts Rs 5.96 Lakhs